| | |
| --- | --- |
| Posted on 31 March, 2020 at 6:00 | |
During the first week of 'lockdown' the weather was lovely and our back garden was a bit of a suntrap. Unfortunately the garden renovation that we are undertaking had to be stopped - now we have lots of bare earth and a big hole for a pond (but no liner - so no water or plants).
What we also have is a new 'mowing strip' just put in at the bottom of the wall that supports our patio.  This faces due south.  The concrete was still dampish.  And, lo and behold, this attracted a splendid Comma butterfly who enjoyed basking and may even been feeding on the concrete.  Julia managed a quick snap with her iPhone.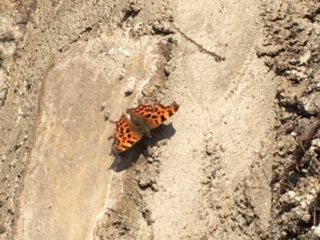 So we saw our first 'Polygonia c-album' ("many sides witha white C") - mostly orange but a design of flame, saffron and mahogony-brown with specks of sun-yellow dotted around the edges.  They begin hatching in June so this one must have over-wintered in a pile of leaves (perhaps the pile that was built around the 'hedgehog hotel' I put out for the winter). Its folded wings are very well camouflaged; the pupae hide by impersonating bird droppings. Their caterpllars can feed on several species - though stinging nettles are a favourite.

Luckily I got close to one when we were in Poland in 2019.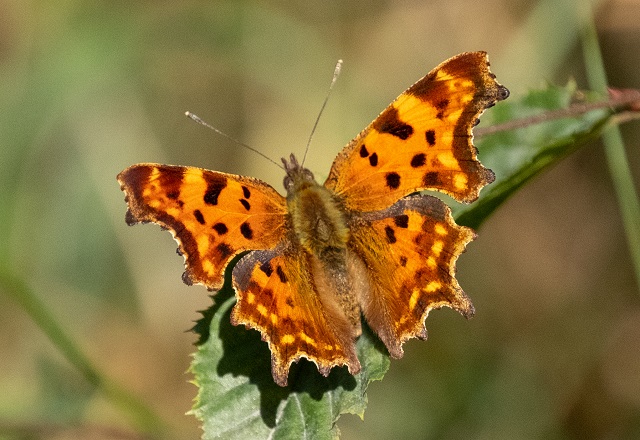 Categories: 2020
/