| | |
| --- | --- |
| Posted on 26 June, 2020 at 4:05 | |
Well loyal fans - I do now believe there is more than one of you - I've got an owling treat for you today.  Inspired by our recent local Long-eared Owls, I have been looking back over past owl encounters.  I have put up a new photo gallery page of the Wallsend LEOs.

Because Owls are generally active at night, they have a highly developed hearing system. The ears are located at the sides of the head, behind the eyes, and are covered by the feathers of the facial disc. The "Ear Tufts" visible on some species are not ears at all, but simply display feathers.
Here is a picture of an adult Long-eared Owl that I took in Hungary. So - those 'ears' are NOT his ears!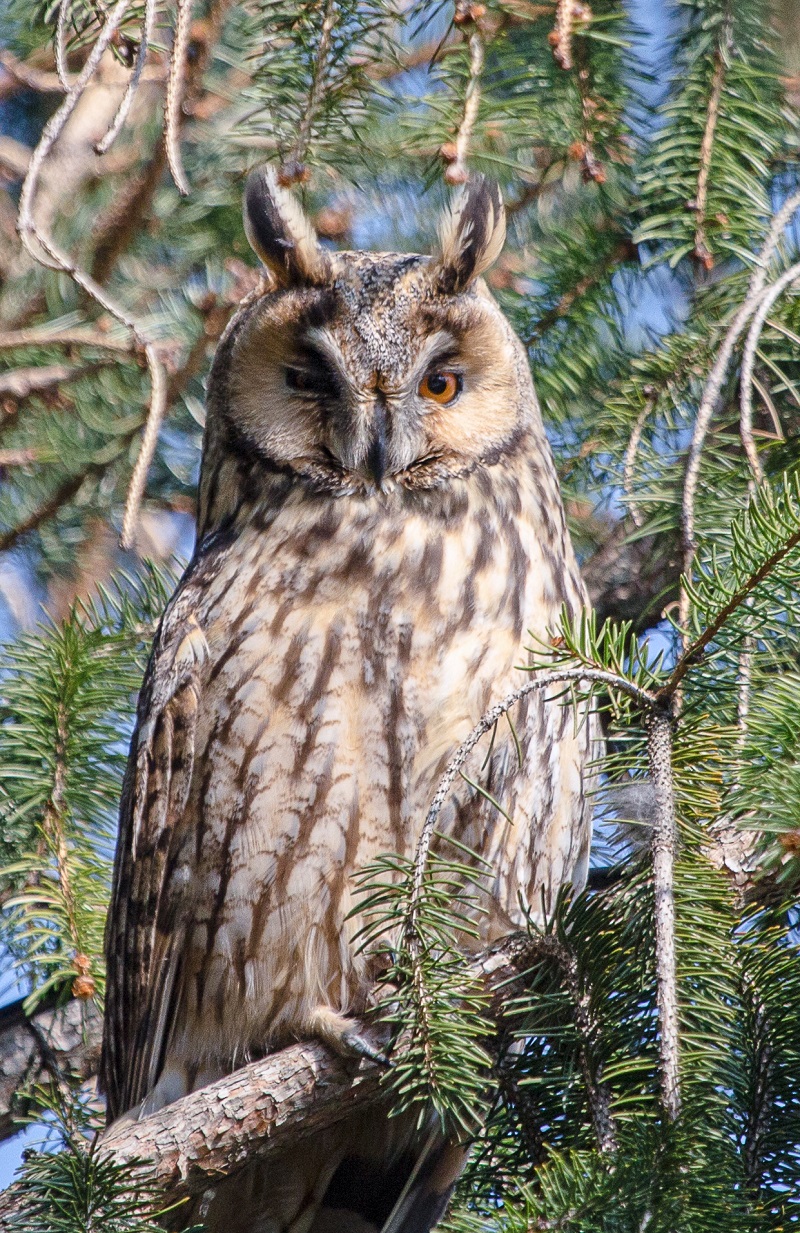 If you look at the next picture carefully you will see the ear opening on the Long-eared Owl youngster that I took a couple of days ago at Wallsend Rising Sun CP. He was having a good scratch and revealed the ear opening which is part of the facial disc.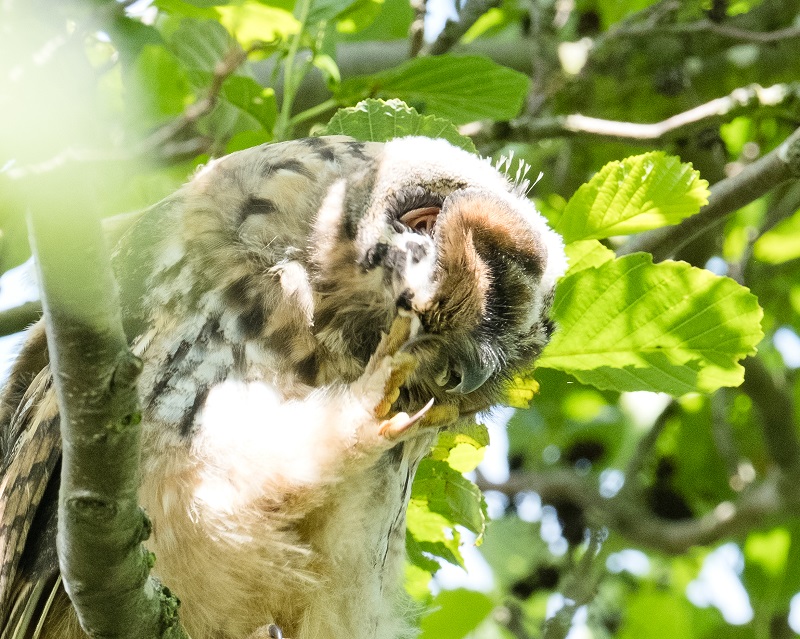 Interestingly, the two ears are asymmetrical in their positioning in most owl species, the left ear positioned lower than the right, and the two also out of line in the vertical plane. Such asymmetry generates a tiny amount of separation between when a sound hits one ear compared to the other; this allows an owl to better pinpoint the source of a sound.

We saw this young owl again, with his (her?) siblings when we went back to Rising Sun two nights later.  Although it is notoriously difficult to see LEOs because of their excellent camouflage, it is not to difficult to locate the owlets when they are shouting out their 'squeaky gate' begging call - letting their parents know where they are when they return with food.  But you may be able to hear them - that doesn't mean you will see them.  We heard them quite easily but they were hidden in thick trees.  Then, wonderfully, they took off and relocated just a few yards away where we could get excellent views.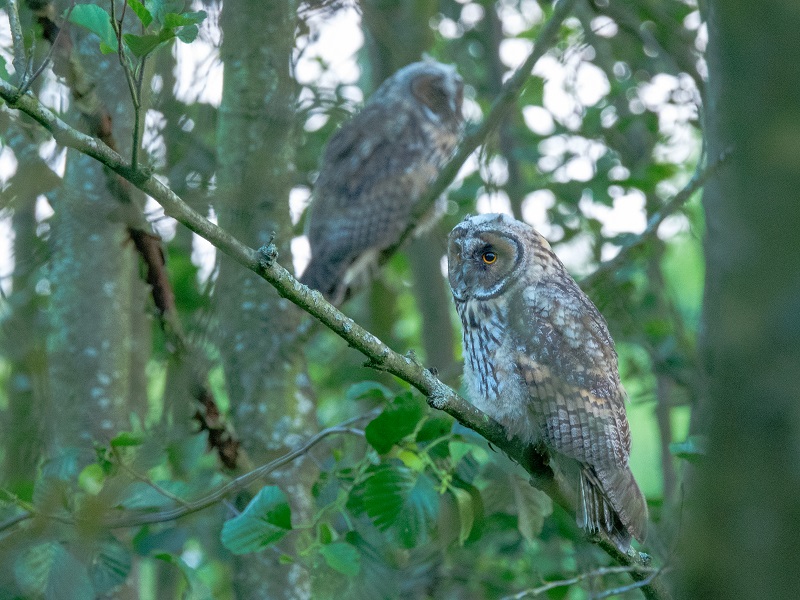 This one was shouting really loudly for his supper...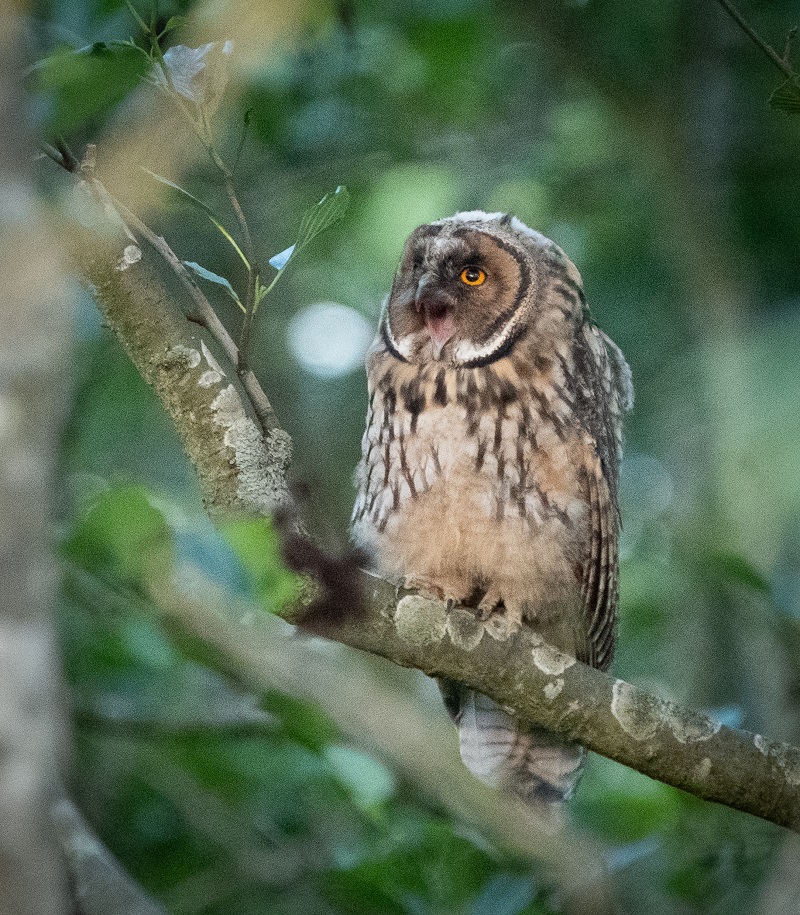 And was staring me out...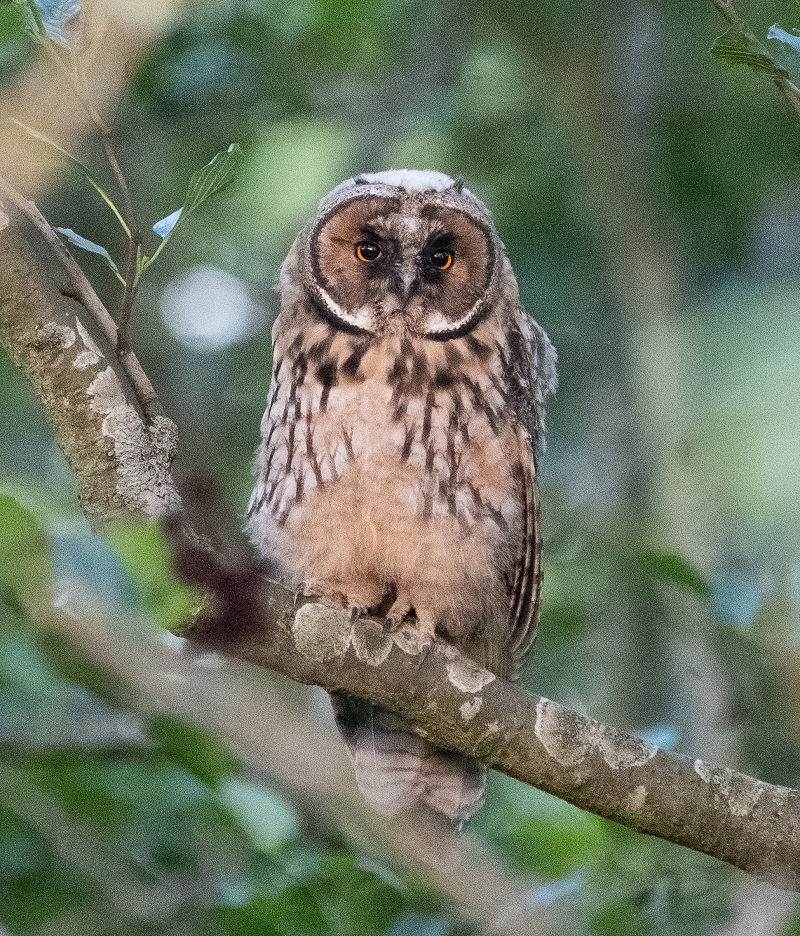 I have had good views of Short-eared Owls at St Mary's Island in the past.  The SEO has yellow eyes (as opposed to the orange of the LEO) and it shows a pale belly in flight.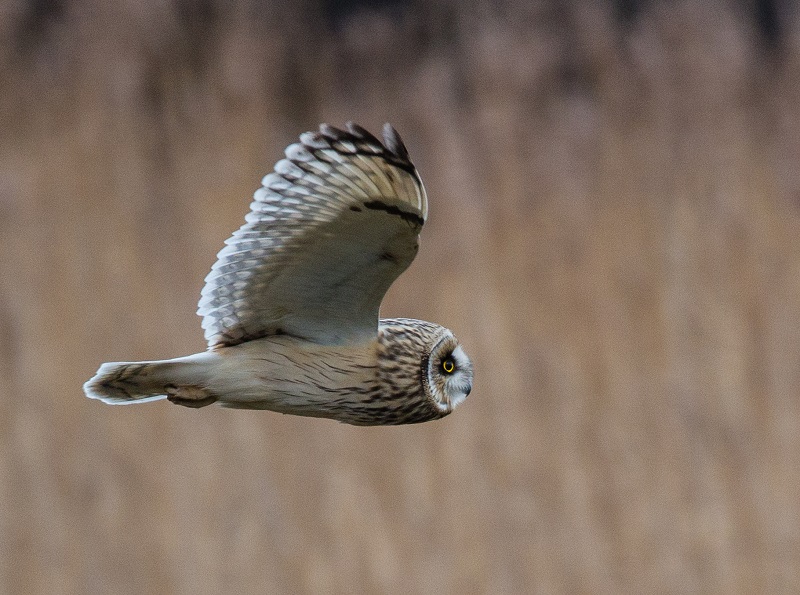 And it has solid black wingtips, unlike the barred tips of the LEO...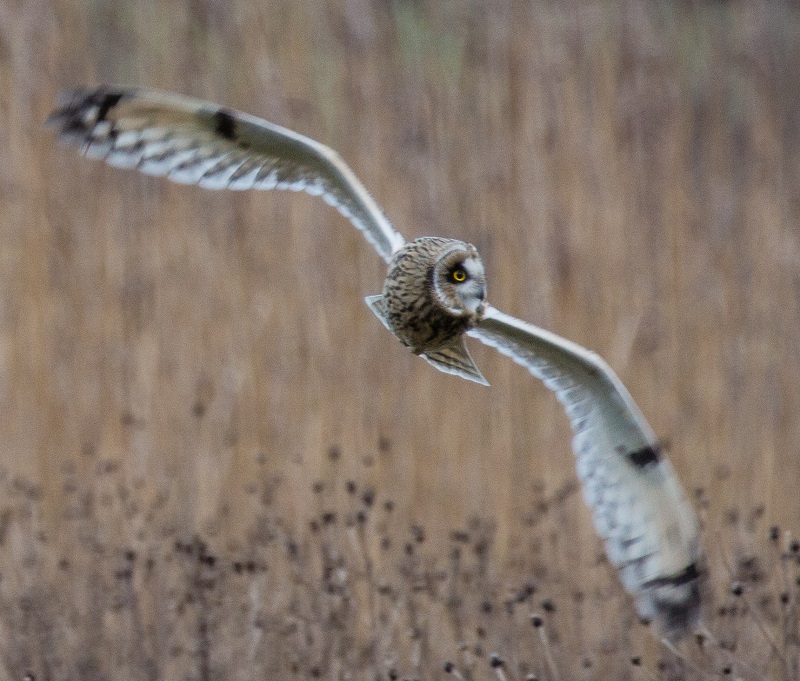 There is a well-known Barn Owl at Cresswell Pond - it nests in the farm buildings there.  I have seen it on a couple of occasions.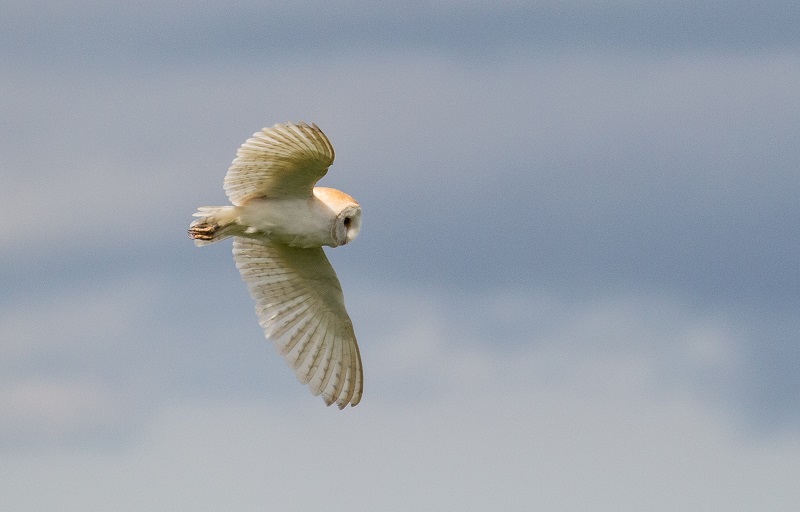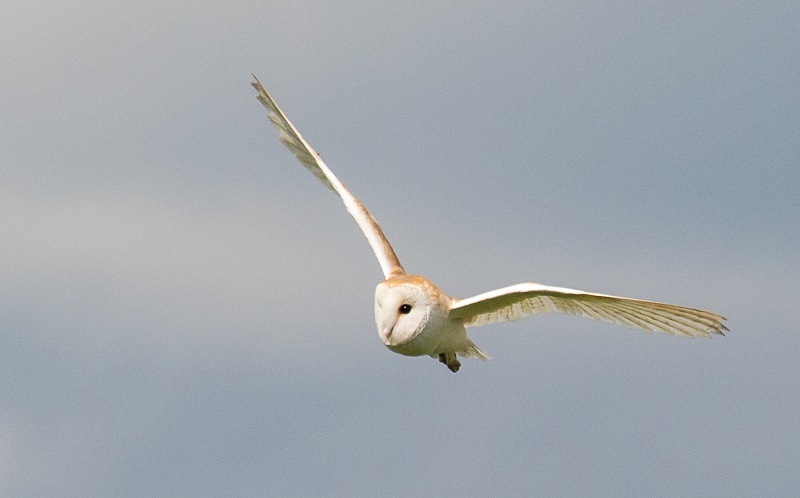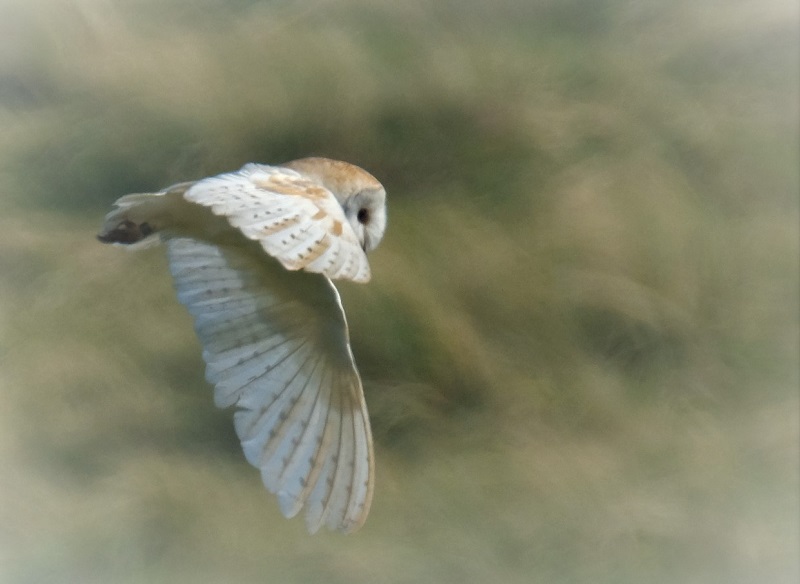 There is also a regular Little Owl just a few miles up the road from Cresswell at the entrance to Druridge Pools.  I've seen this owl - but not photographed it.  The only photos I have of a Little Owl are from a day I had with captive birds of prey. Very charismatic little bird - and a bit of an 'arty' photo!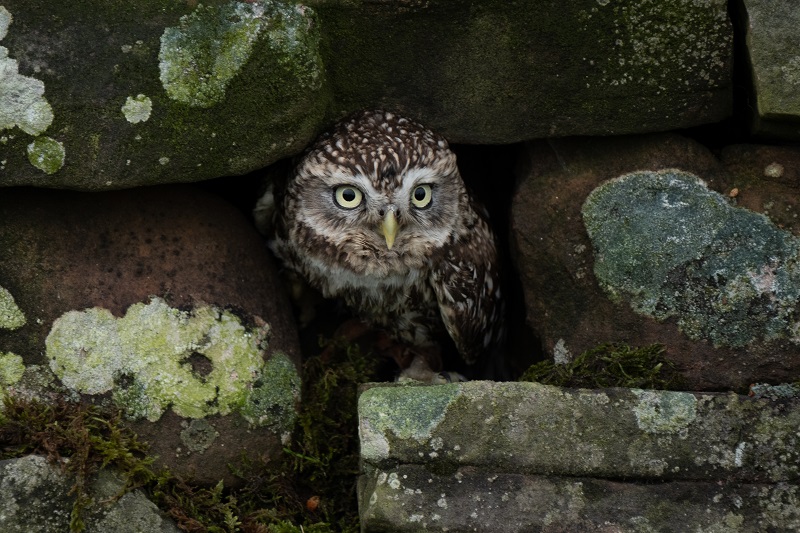 Hope you have enjoyed this 'owl fest'.  There is certainly something very appealing and intriguing about owls - perhaps it is the mystery of their nocturnal skills; perhaps it is the way they have forward pointing eyes like us.  Whatever it is, they are always a treat to see and hear.
Categories: Birds
/