Oops - sorry fans; missed my deadline yesterday.  Busy making bread then receiving visitors; followed by taking them to Rising Sun CP.

So, a brief Wednesday morning blog.  The undoubted highlight of our walk yesterday was seeing fledgling Whitethroats still being attended by their parents.  Why are young animals and birds always so cute?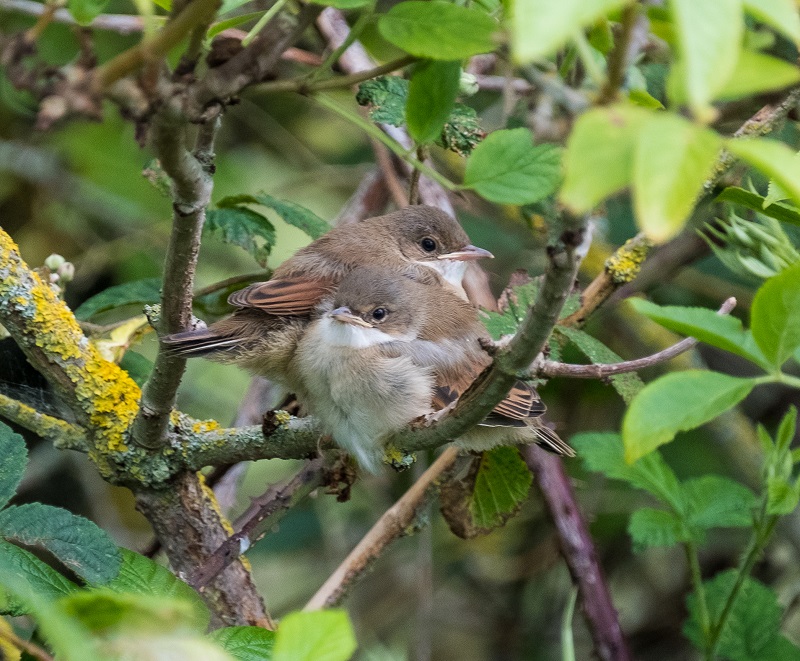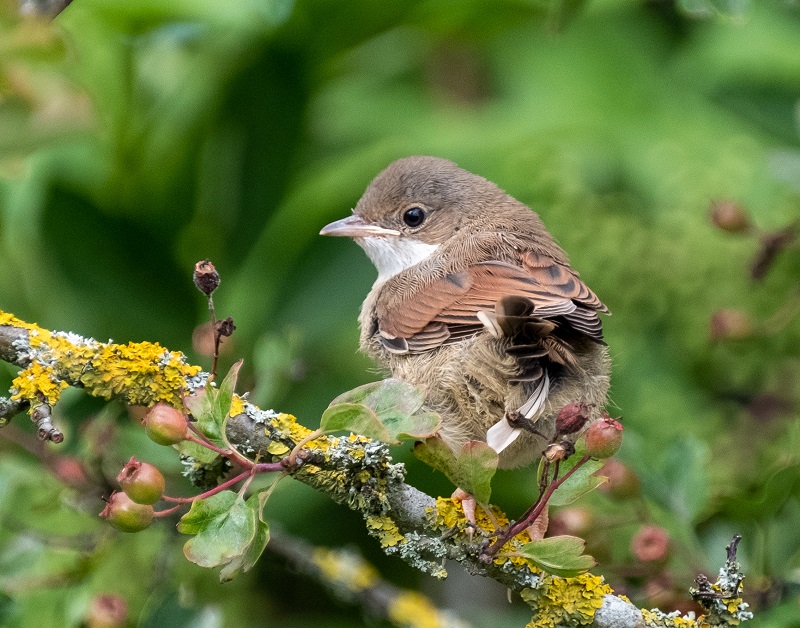 The young birds were very fresh and smart - Dad looked a bit more ragged and worn out!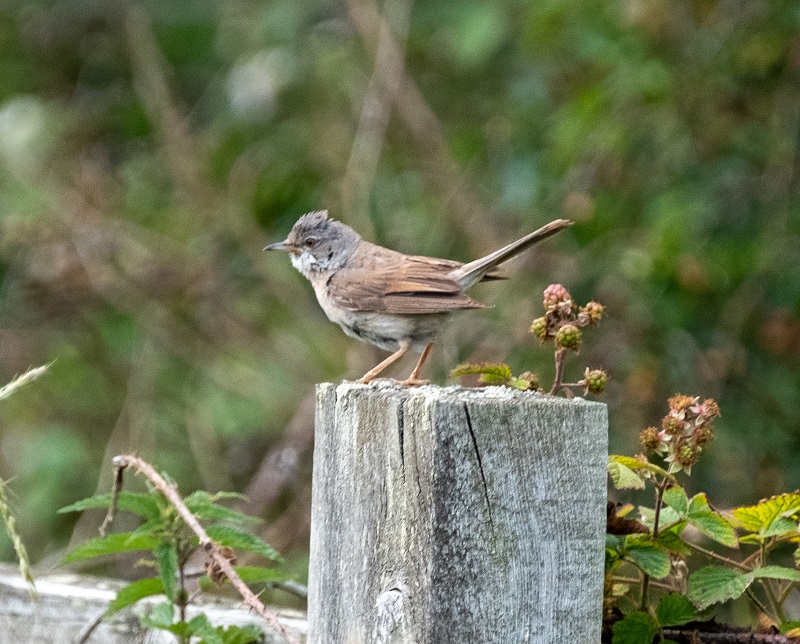 We saw these birds in a hedgerow near the wildflower meadows to the North of the site.  Very few people go there and it is the best part of the park for flowers and butterflies.  The Meadow Cranesbill is lovely...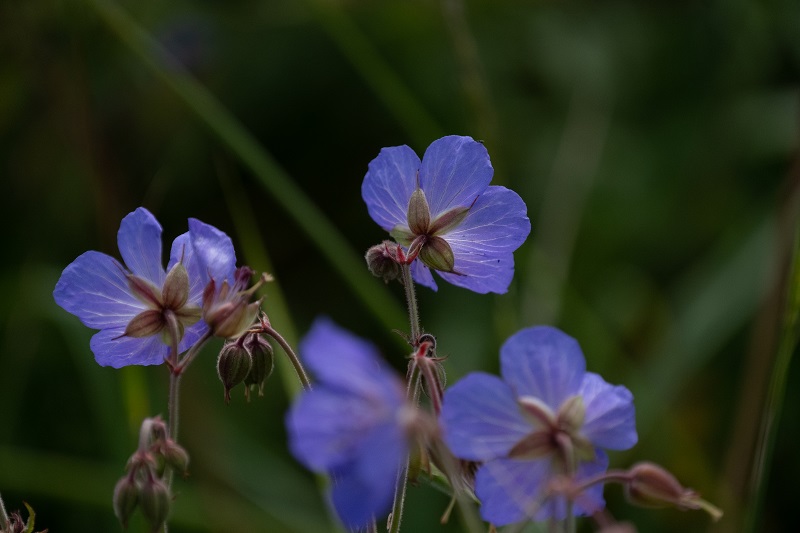 Our visitors from Surrey enjoyed their trip to deepest, darkest Wallsend...
Yesterday Julia and I went to the beach just north of Newbiggin - hoping it would be fairly empty.  It was - except for the normal smattering of dog walkers. And also - a 'cat walker'.  So - we are not the only ones who take our cats for walks in a harness.  Mind you, ours only get to the garden - not the beach!
Most bird life was out to sea - and zooming by.  Gulls, gannets and terns were on show.  Gulls I avoid but I did attempt some pictures of the speedy terns...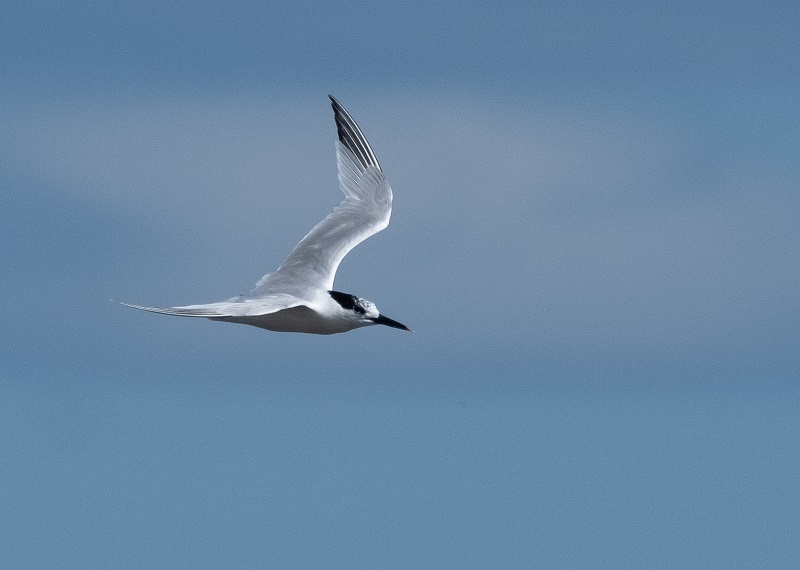 A Sandwich Tern by my reckoning... Easier to get close up photos on the Farne Islands, as with this Arctic Tern a couple of years ago...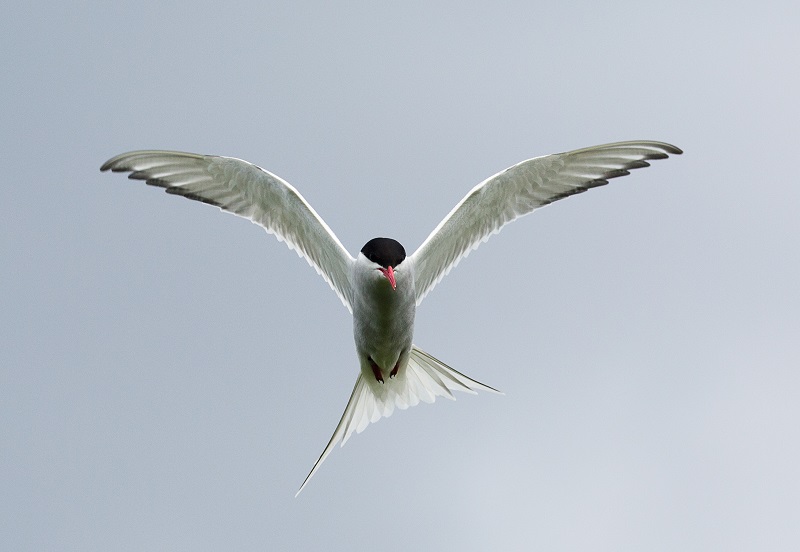 Gannets were quite a way out, flying both north and south - some adults, some juveniles (with the darker markings)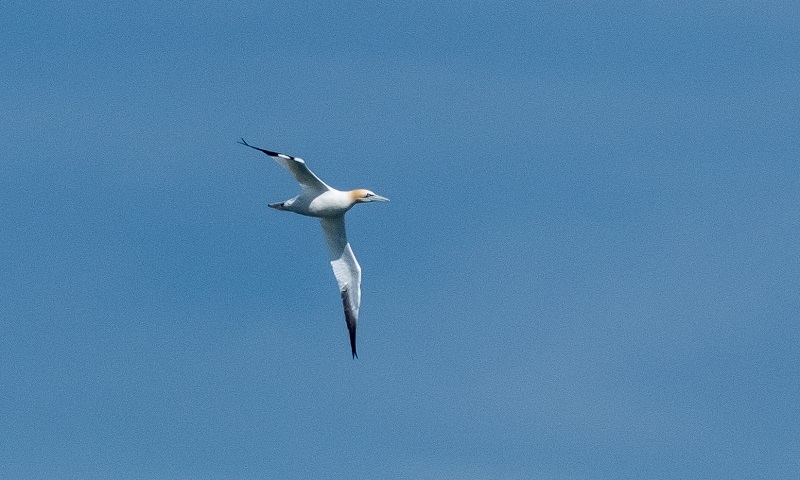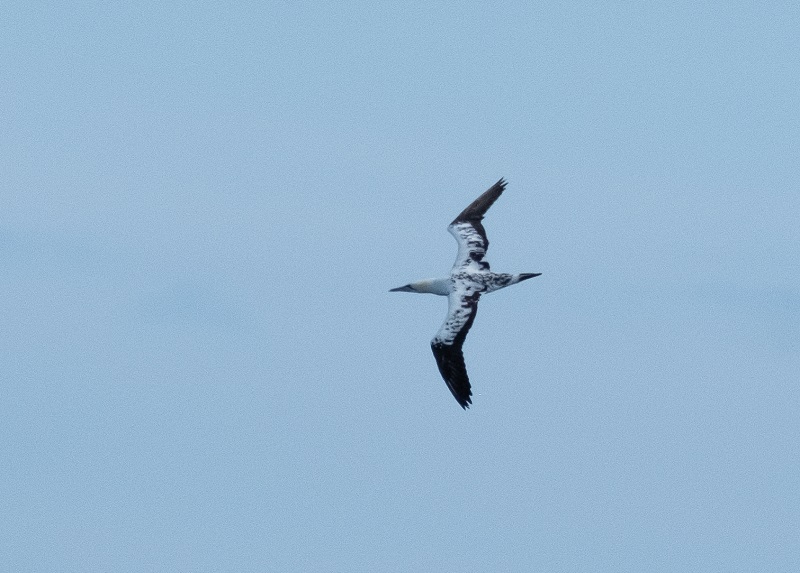 Again, if you go to the right location you can get much closer views - witness these pictures from Bempton Cliffs in 2012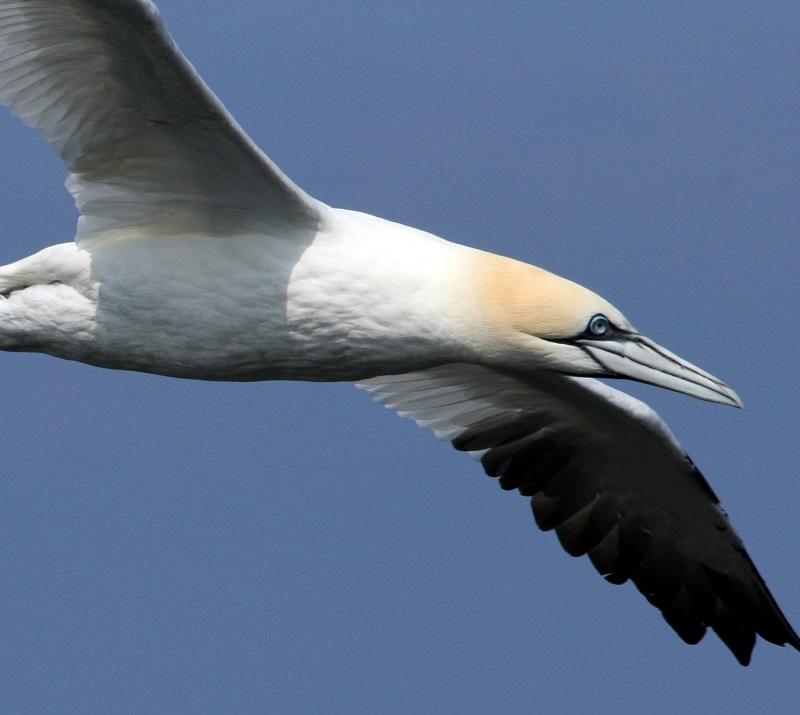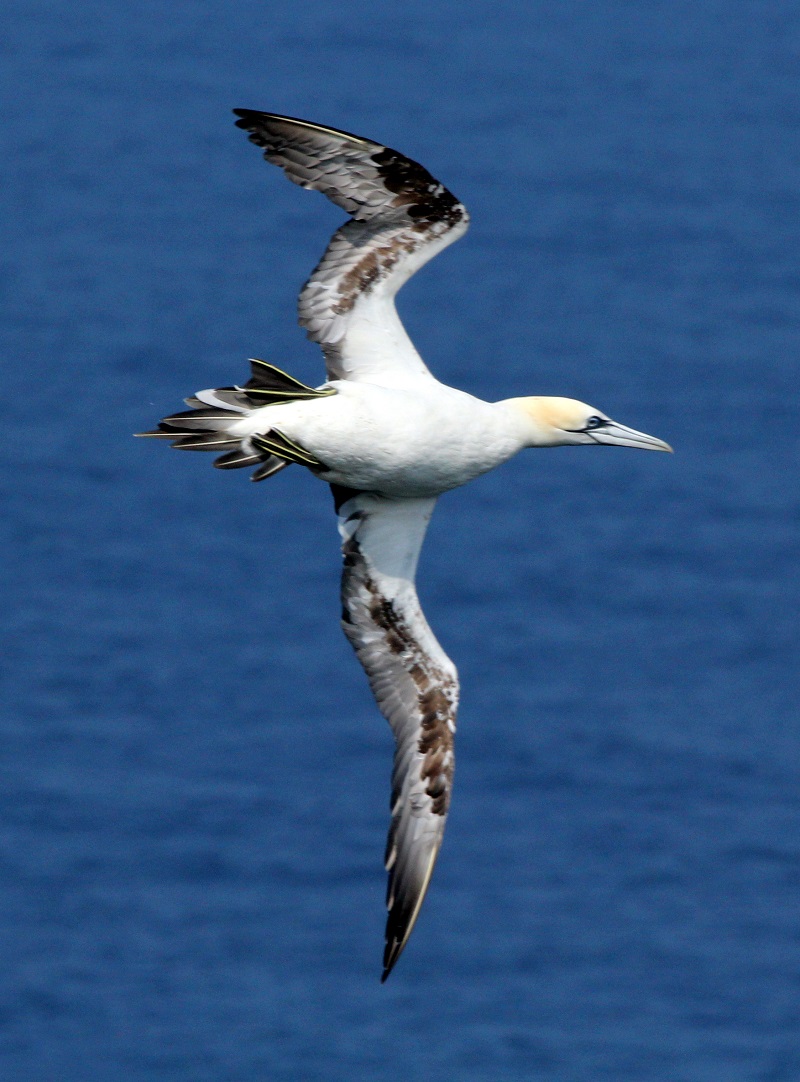 There weren't many shore birds about - a couple of distant Sanderling and Dunlin - in summer plumage; but the closest was a female Linnet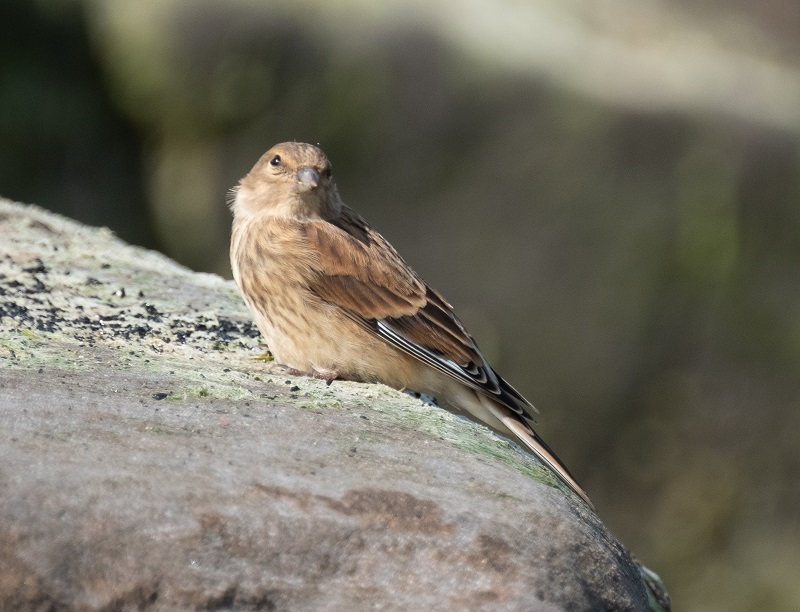 An unspectacular but pleasant enough outing - all that was missing was finishing at a cafe for 'coffee and cakes'!
On Sunday, 12th July, we had one of our infrequent trips out.  We would have preferred to go midweek but the weather was inclement.  We opted for Bolam Lake.

On arrival we were a bit dismayed by the number of cars but most of the occupants either seemed to be feeding loaves of white bread to the swans or be grouped around the ice-cream van! So the one-way walking system that is in place and our desire to walk the less popular paths meant that we were able to be fairly well isolated.

Birds were not plentiful - neither to see nor hear. But there were plenty of plants to keep Julia occupied and a thistle meadow that teemed with insect life.

Red-tailed Bumblebee (Bombus lapidarius):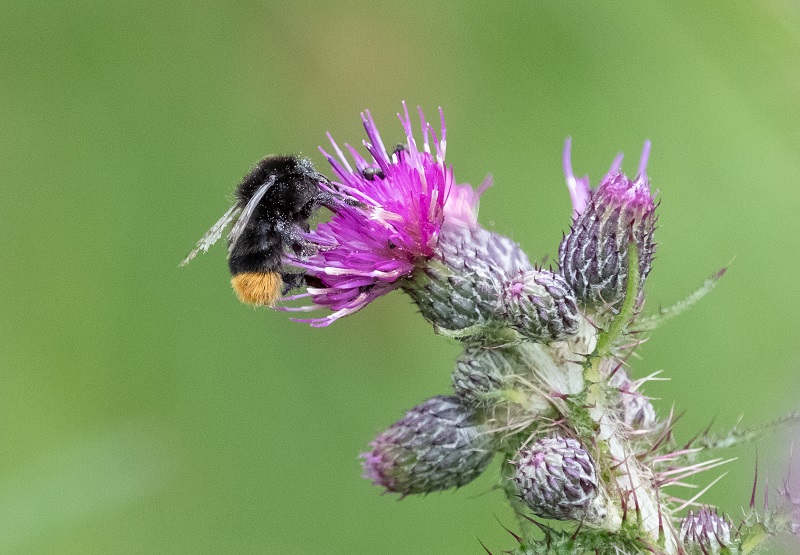 Common Blue Damselfly: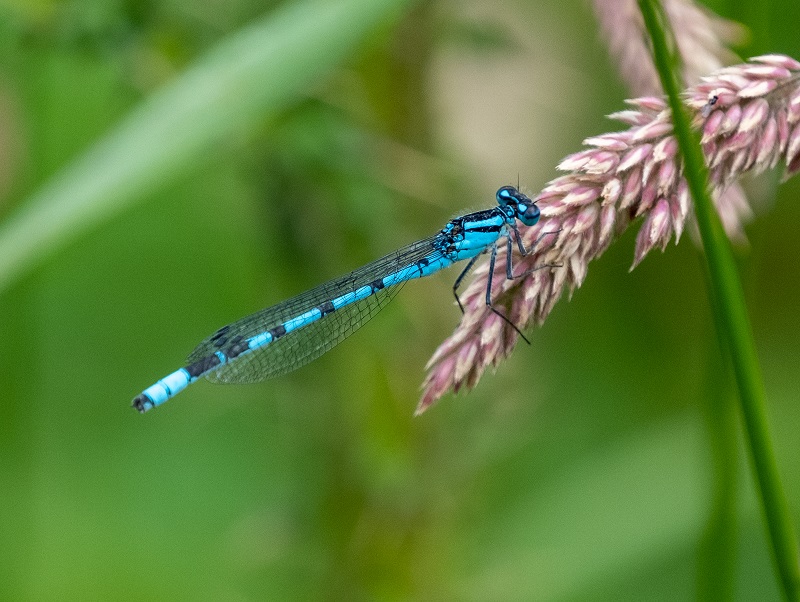 A few butterflies too...

Small Skipper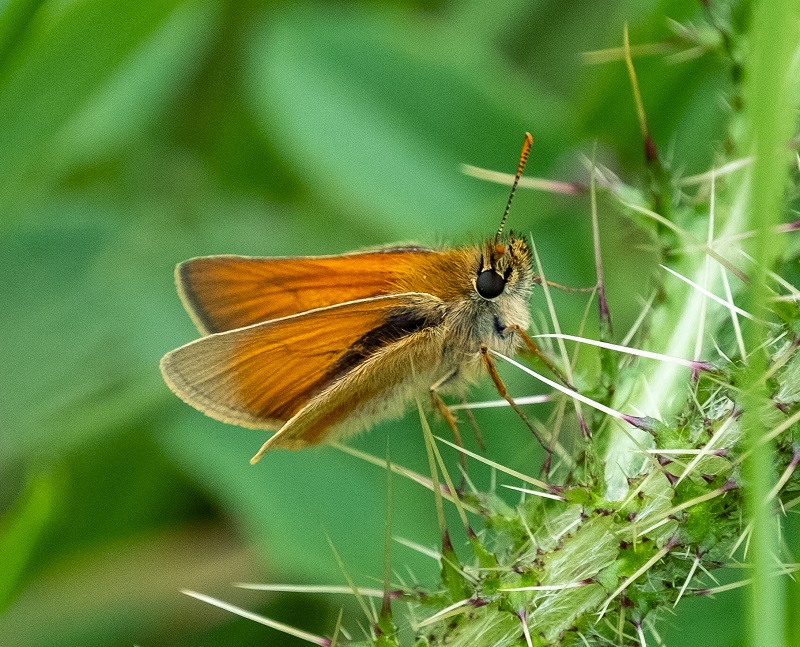 ...the UK's most common butterfly - the Meadow Brown...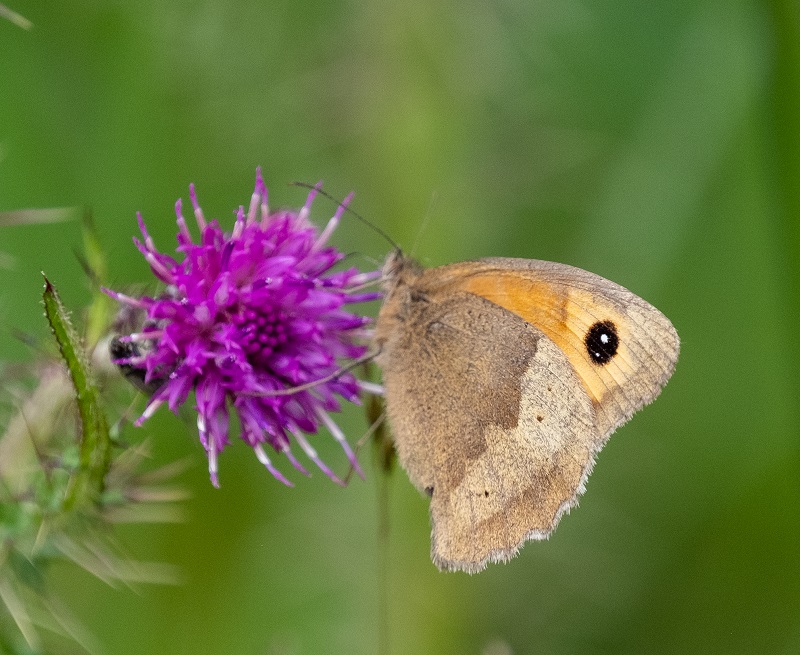 ...and a rather scruffy Red Admiral...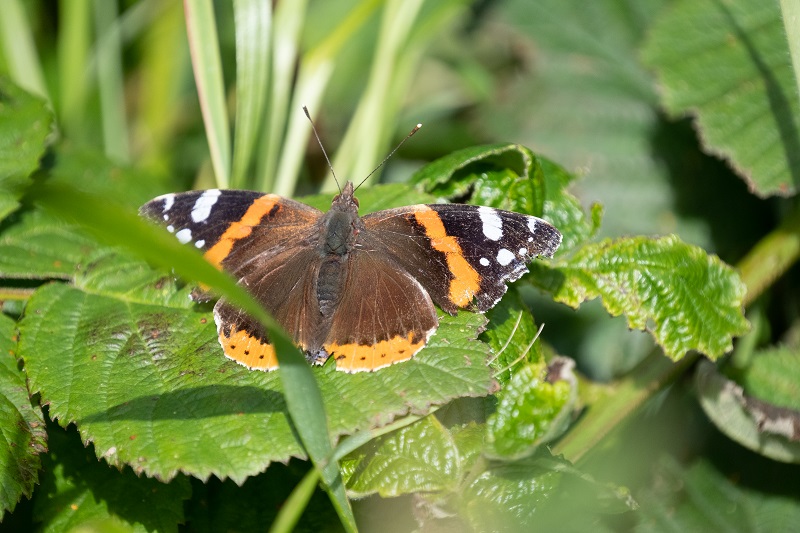 Flower heads and emerging plants made for interesting pictures too...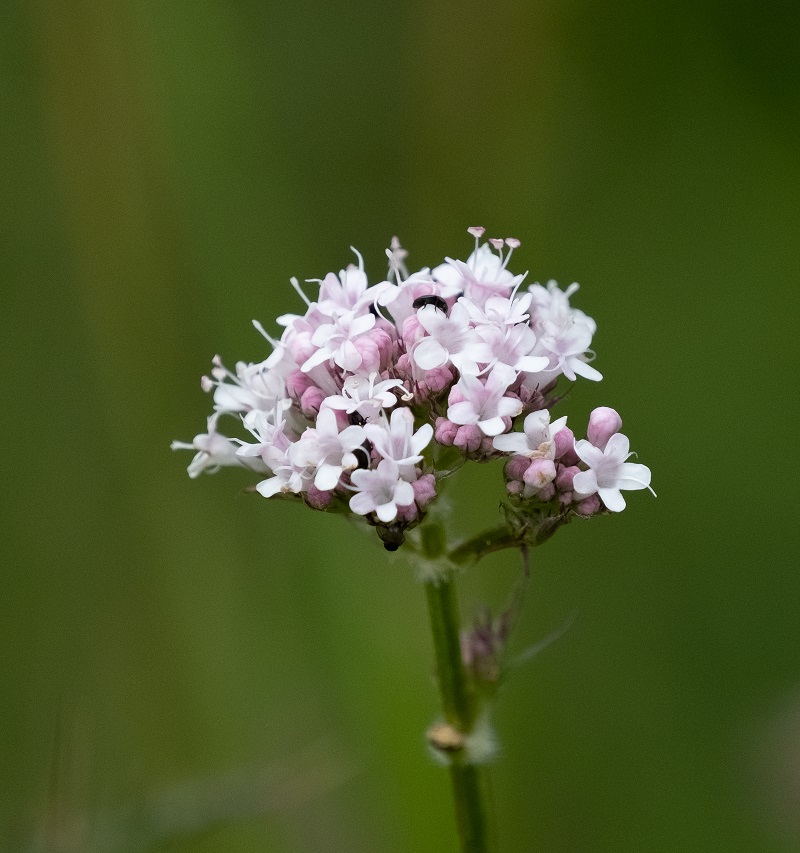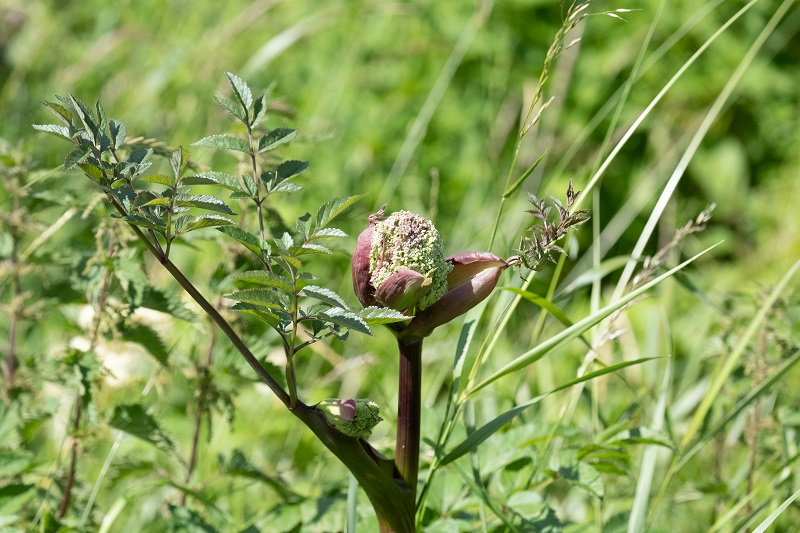 In the darkest part of the woods, by a feeder, we did see various tits and a Nuthatch.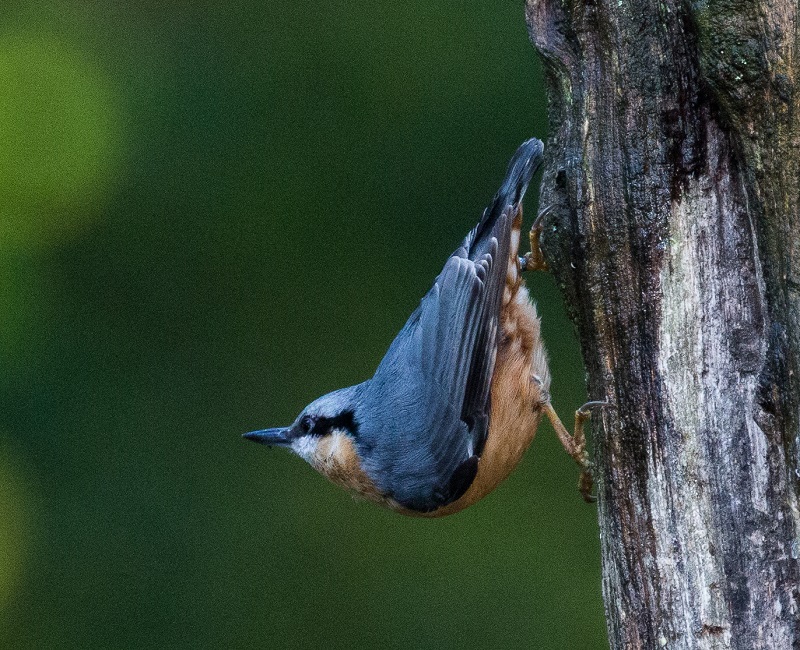 On our way home we called in at Prestwick Carr, which, as we guessed, was very quiet - in terms of humans and wildlife!

As we left, we did spot a Kestrel - and this is a real 'record shot' just to remind us it was there...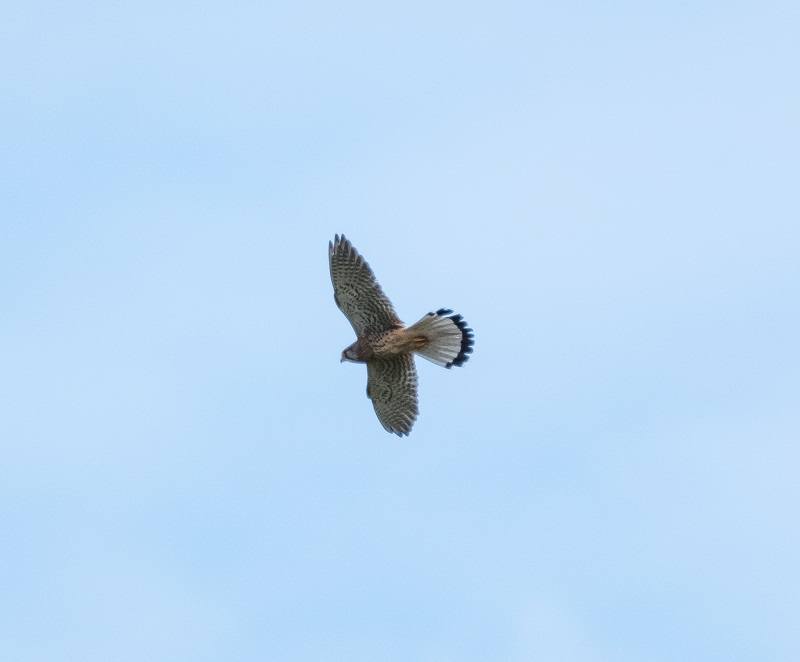 So another pleasant walk - nothing startling but plenty to keep us interested.
Yesterday evening (Thursday 9th July) a knock came on our door.  It was neighbour Tracy telling me that a Sparrowhawk was devouring its kill right outside their house! And so it was...

A magnificent female Sparrowhawk was making short work of a juvenile Woodpigeon.

I grabbed my camera and rushed out.  Unfortunately I had just been working on the previous blog (about my stroll around Rising Sun CP) and the memory cards were lying on my desk.  I snapped away merrily for about 10 minutes - then had that horrible sinking feeling.  I checked the camera - no cards in it!!  So, hot foot back into the house to grab a card - praying that the bird would still be there when I re-emerged. It was... (thankfully!)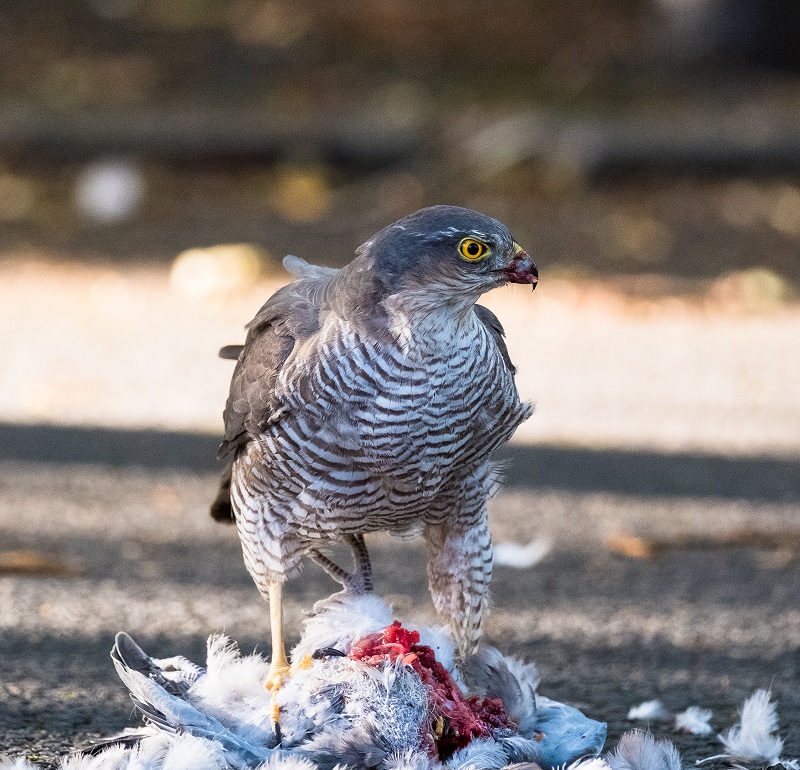 I have uploaded just 12 of the 150 photographs elsewhere on the website (the album called Sparrowhawk July 2020) (sorry - no hyperlinks working...)

Tracy's son, Harry, was out there snapping away too.  He is a professional videographer and a very brief video made by him is on the home page of the site.

I wasn't totally sure of the victim but close examination of these photos by some of my gurus confirmed it was a juvenile Woodpigeon: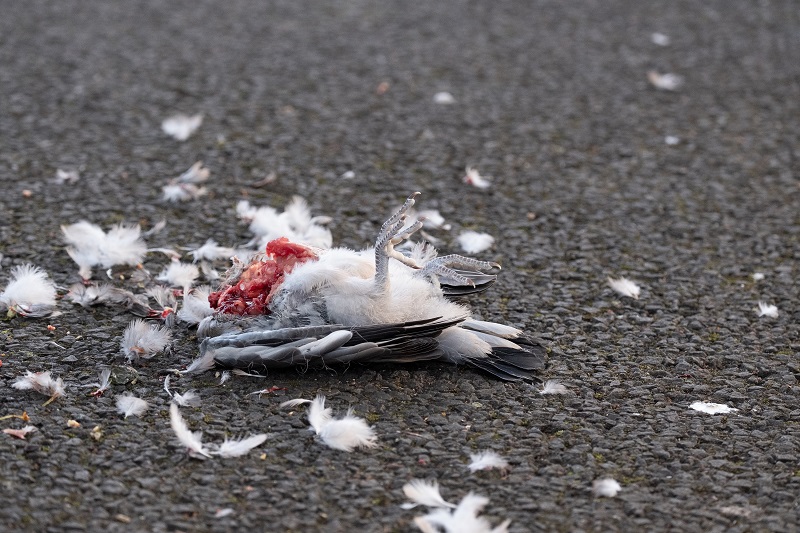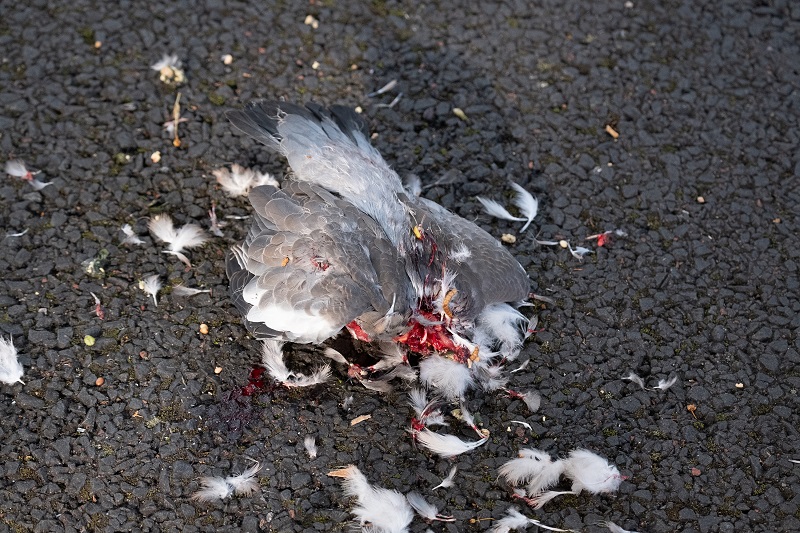 As David Noble-Rollin told me:
It's a young Woodpigeon. You can see the Sparrowhawk has broken the crop and there are peas and mealworms that the pigeon had just eaten. The ID is that the feet are pigeon type. The white on the edge of the wing is Woodpigeon only. The age is the colour of the feet (they start going red usually when the tailed and flight feathers are fully grown towards autumn) and the short tail which has the characteristic black band showing on the underside picture.
This was a fantastic encounter with a beautiful bird.  It just shows that you never know when you are going to come across events in the natural world which will fill you with awe. 

It is also a salutory lesson that you need to turn OFF the 'take pictures without memory card' instruction in your camera!!!


So - why do birds sing?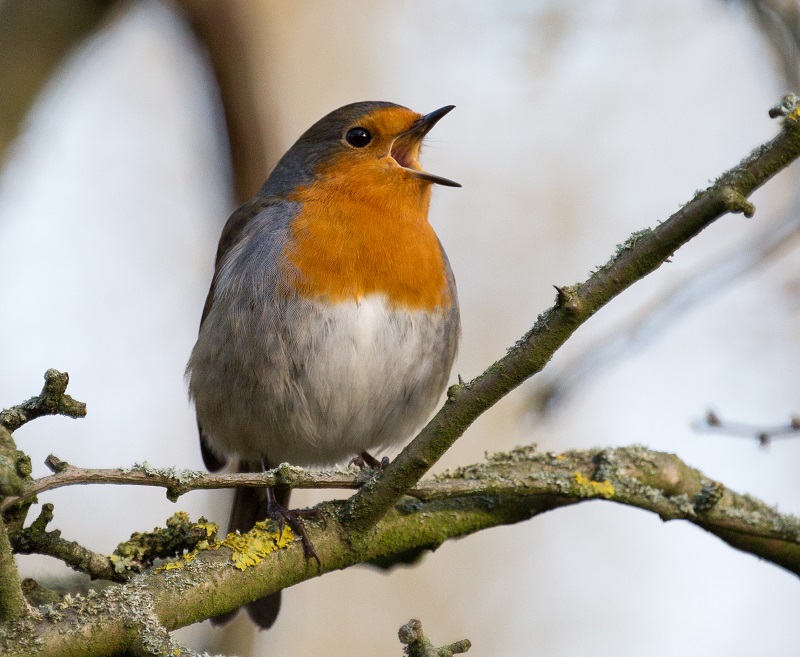 A bird's song is only one type of sound birds make, but it is the most recognizable. Birds have very complex vocalizations, often with more than one tone produced simultaneously, thanks to the specialized syrinx (their equivalent of a voice box) that allows them to create independent sounds in different parts of their trachea. Songs may last 2 to 10 seconds or more and are often repeated in long sequences. A song is generally more musical than other calls, and often incorporates a range of pitches and rhythms into one connected sequence.

In many bird species, only the males sing—they do so conspicuously from high, exposed perches so their song will travel greater distances. As this Whitethroat at Wallsend Rising Sun CP demonstrates...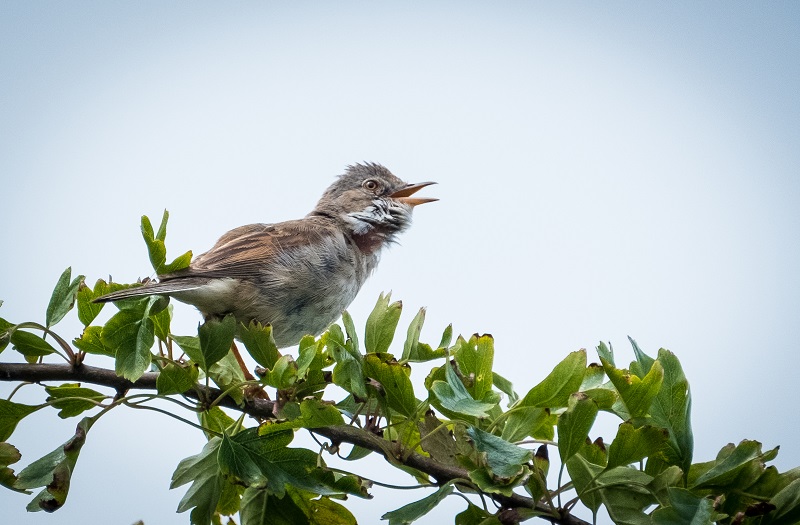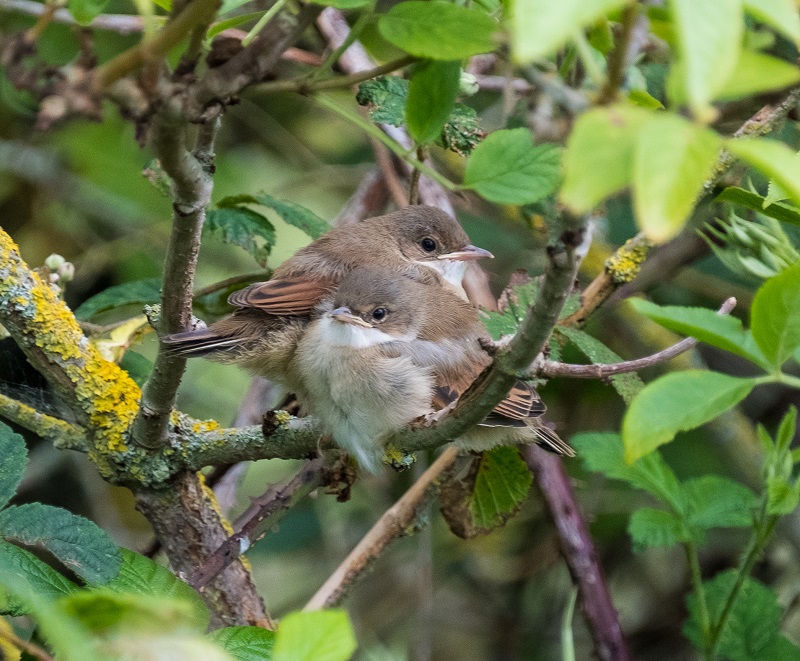 Birds sing for a number of reasons:

claiming and defending territory
attracting a mate
general communication - warnings; keeping in touch with contact and flight calls

Greenfinch, also at Rising Sun...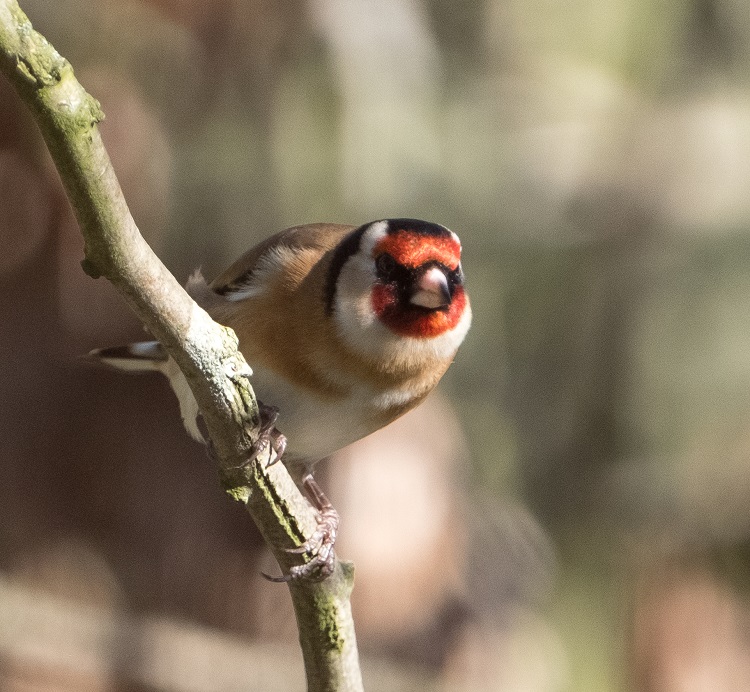 Fresh songs come to our shores when the warblers return in the spring and summer - a Blackcap at Washington WWT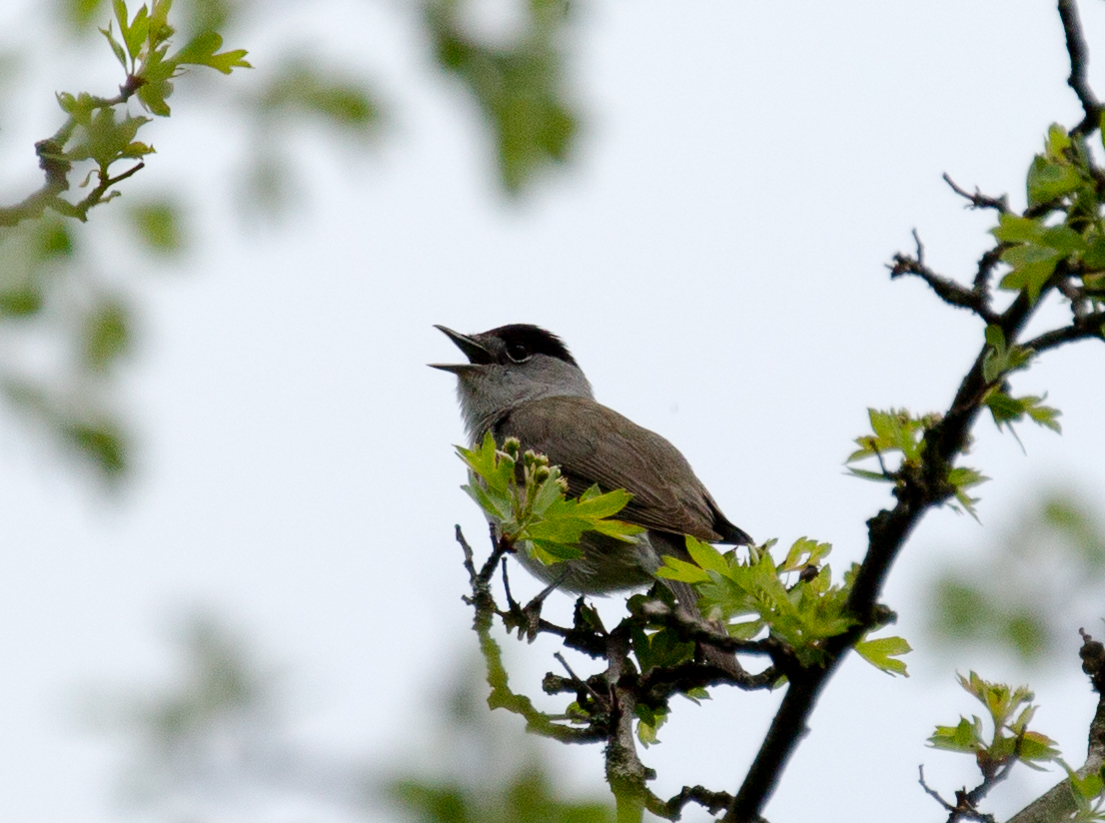 And although the Chiffchaff's song is not particularly memorable, it is always good to hear as it is often the harbinger of spring.  This one was at Big Waters NR...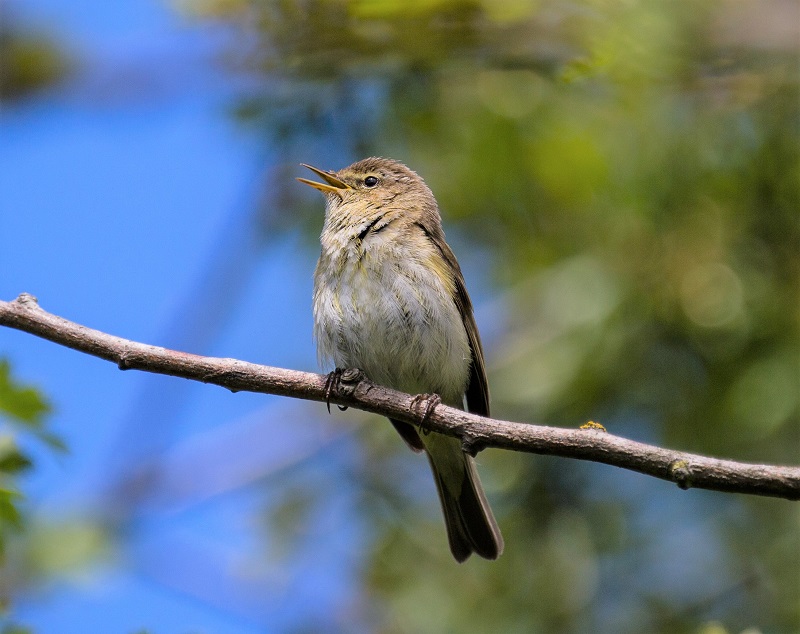 Learning the various songs and calls is quite a task - but can be done if you get familiar with a few at a time and get them in your 'aural bank'.  Of course, hearing them can be a challenge for 'men of a certain age' (like me).  My tip? Go birdwatching with a wife who has keen hearing!
Well loyal fans - I do now believe there is more than one of you - I've got an owling treat for you today.  Inspired by our recent local Long-eared Owls, I have been looking back over past owl encounters.  I have put up a new photo gallery page of the Wallsend LEOs.

Because Owls are generally active at night, they have a highly developed hearing system. The ears are located at the sides of the head, behind the eyes, and are covered by the feathers of the facial disc. The "Ear Tufts" visible on some species are not ears at all, but simply display feathers.
Here is a picture of an adult Long-eared Owl that I took in Hungary. So - those 'ears' are NOT his ears!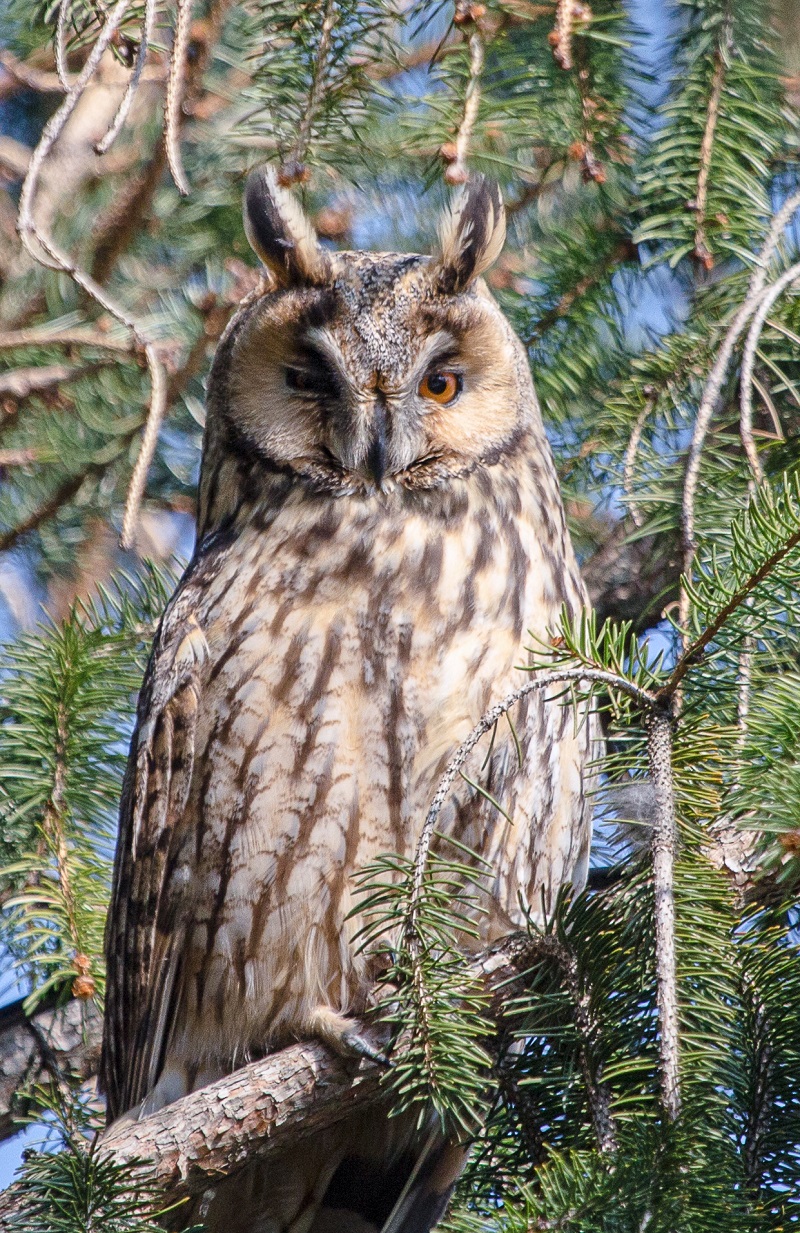 If you look at the next picture carefully you will see the ear opening on the Long-eared Owl youngster that I took a couple of days ago at Wallsend Rising Sun CP. He was having a good scratch and revealed the ear opening which is part of the facial disc.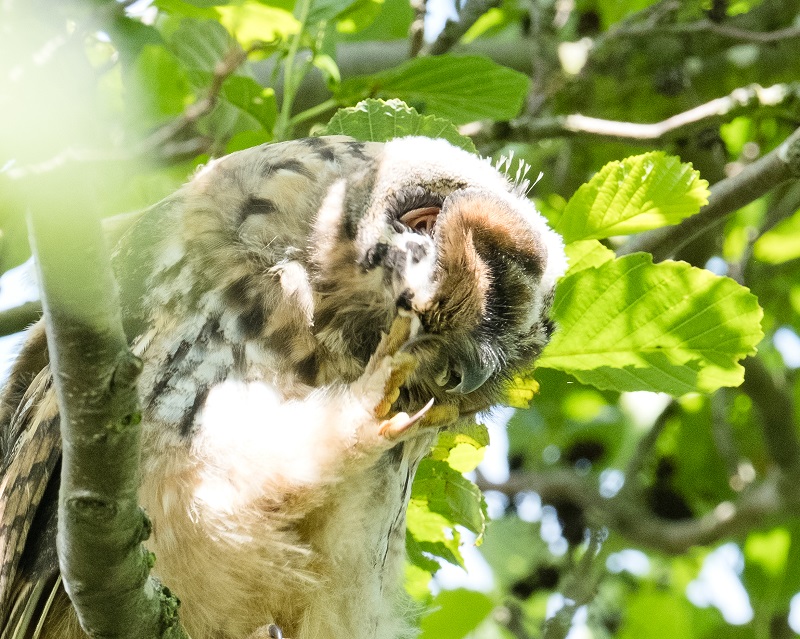 Interestingly, the two ears are asymmetrical in their positioning in most owl species, the left ear positioned lower than the right, and the two also out of line in the vertical plane. Such asymmetry generates a tiny amount of separation between when a sound hits one ear compared to the other; this allows an owl to better pinpoint the source of a sound.

We saw this young owl again, with his (her?) siblings when we went back to Rising Sun two nights later.  Although it is notoriously difficult to see LEOs because of their excellent camouflage, it is not to difficult to locate the owlets when they are shouting out their 'squeaky gate' begging call - letting their parents know where they are when they return with food.  But you may be able to hear them - that doesn't mean you will see them.  We heard them quite easily but they were hidden in thick trees.  Then, wonderfully, they took off and relocated just a few yards away where we could get excellent views.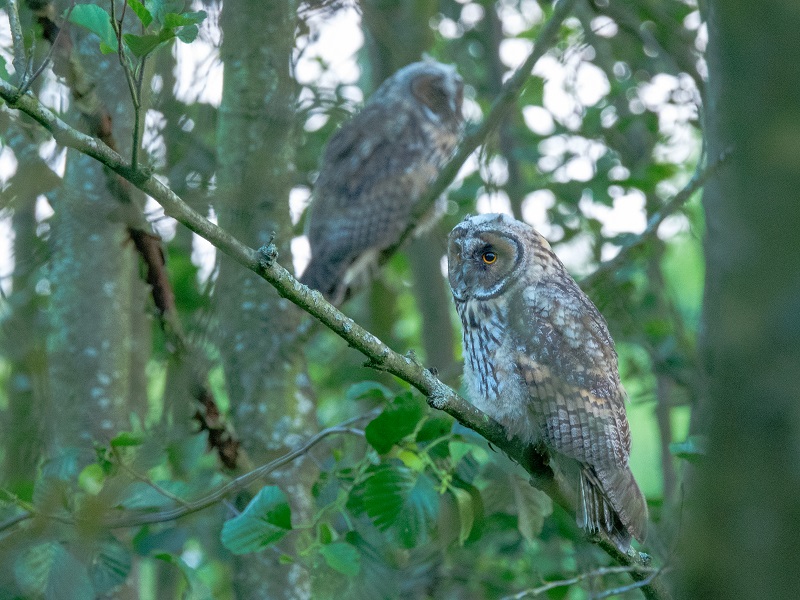 This one was shouting really loudly for his supper...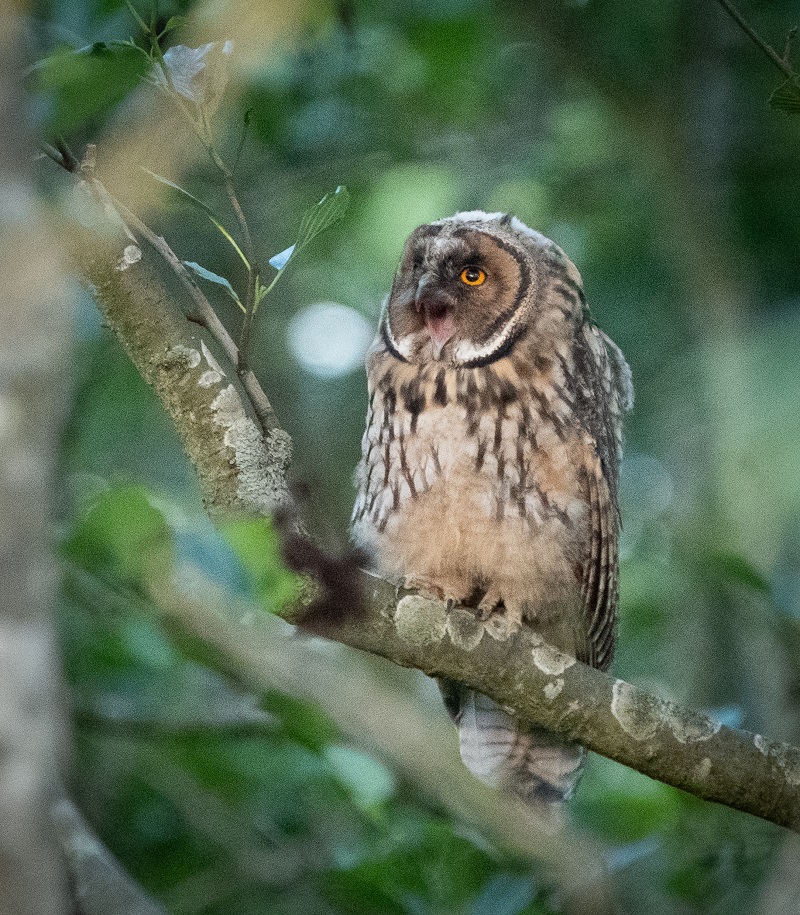 And was staring me out...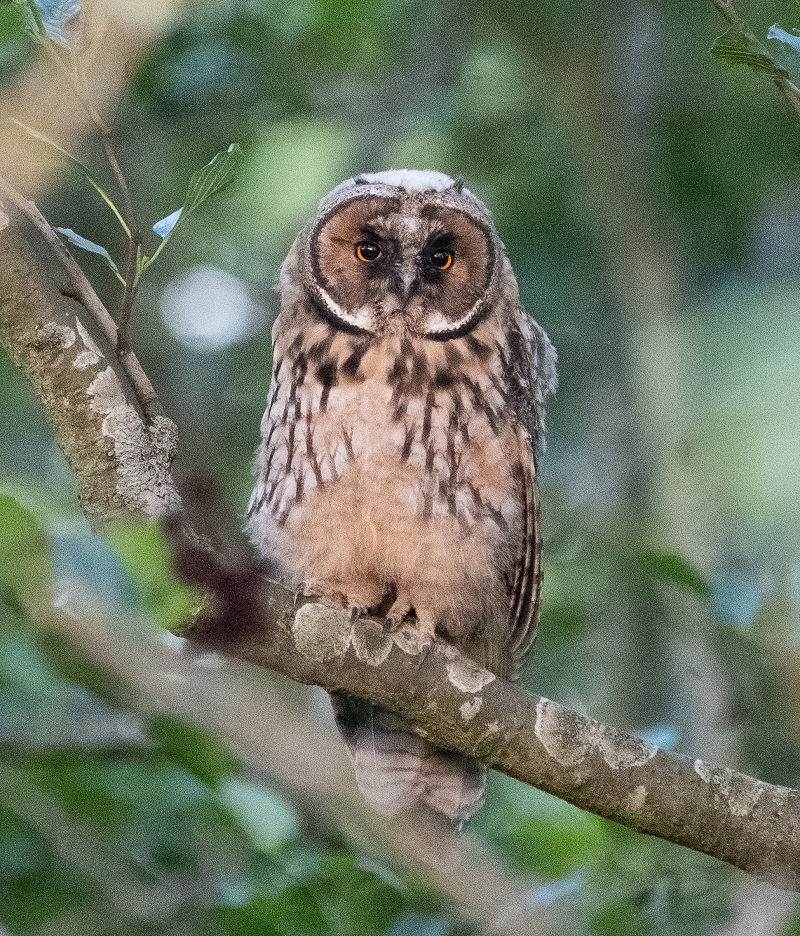 I have had good views of Short-eared Owls at St Mary's Island in the past.  The SEO has yellow eyes (as opposed to the orange of the LEO) and it shows a pale belly in flight.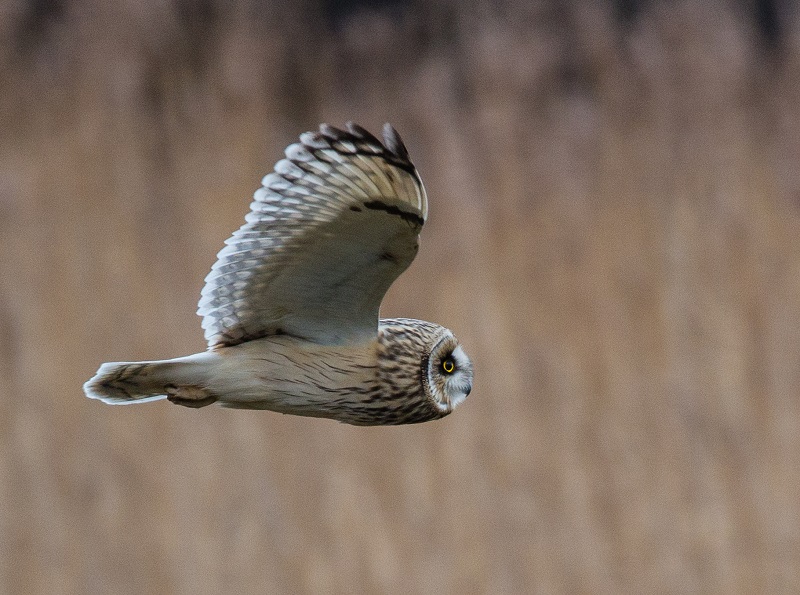 And it has solid black wingtips, unlike the barred tips of the LEO...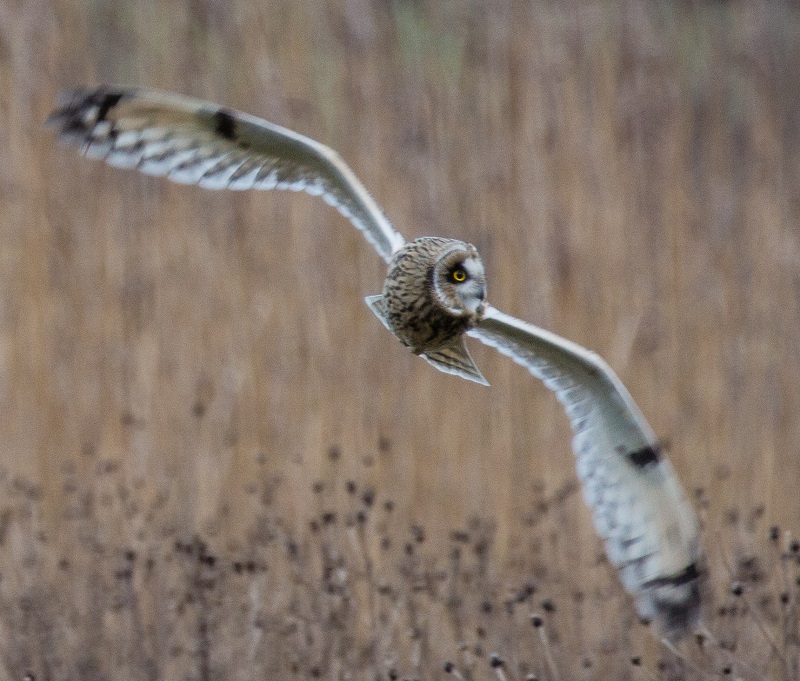 There is a well-known Barn Owl at Cresswell Pond - it nests in the farm buildings there.  I have seen it on a couple of occasions.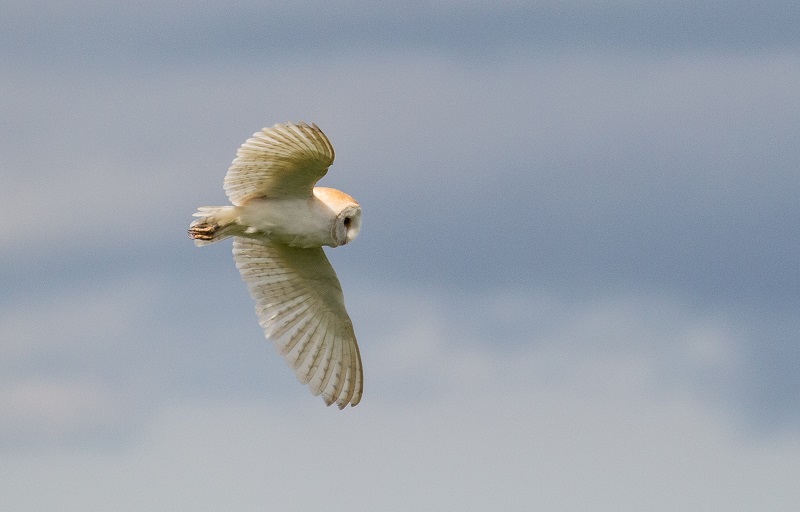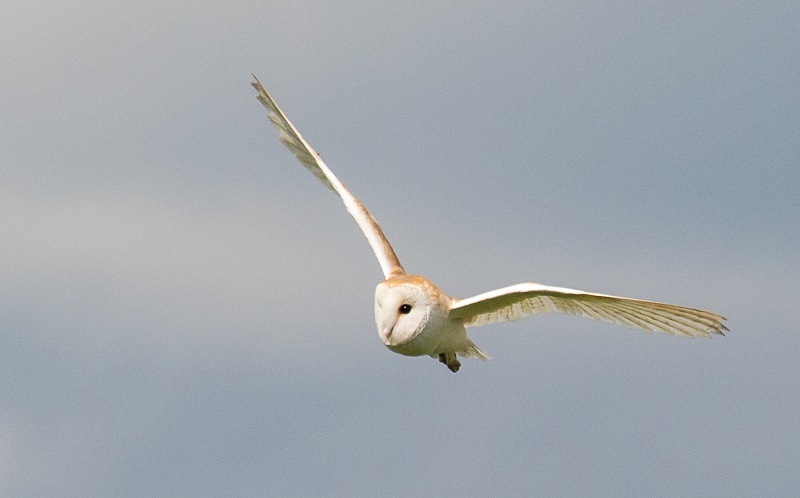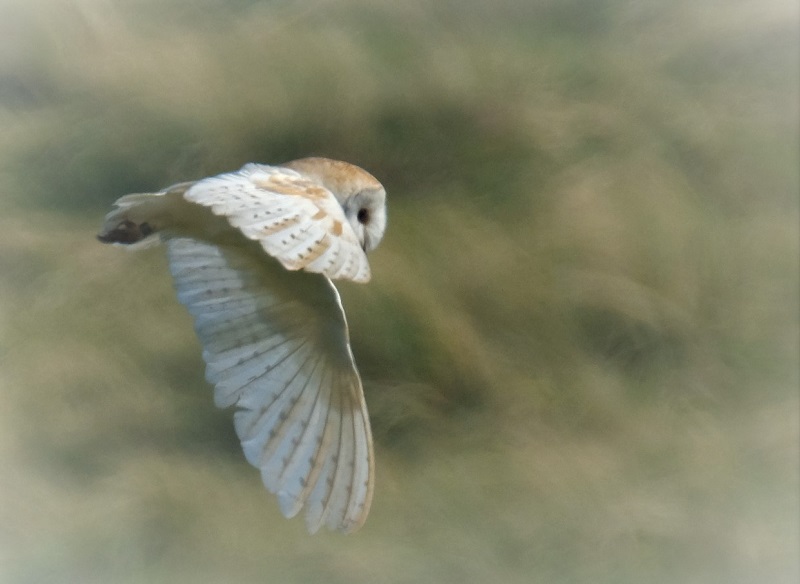 There is also a regular Little Owl just a few miles up the road from Cresswell at the entrance to Druridge Pools.  I've seen this owl - but not photographed it.  The only photos I have of a Little Owl are from a day I had with captive birds of prey. Very charismatic little bird - and a bit of an 'arty' photo!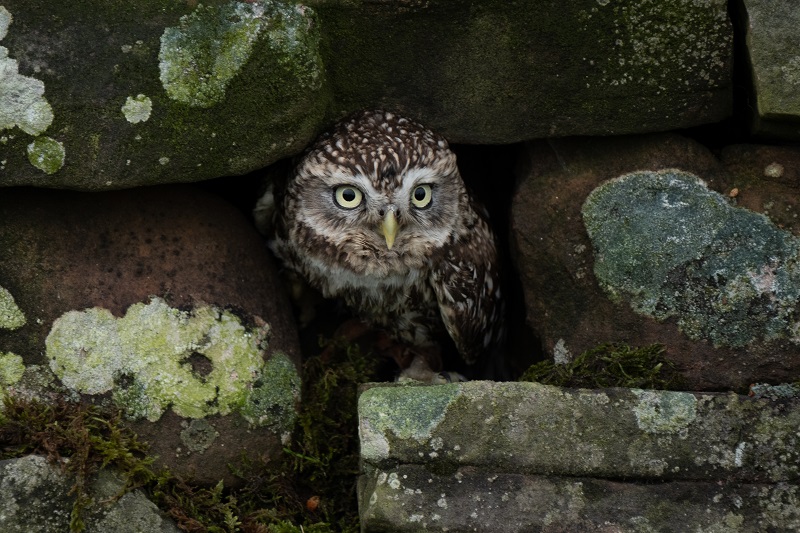 Hope you have enjoyed this 'owl fest'.  There is certainly something very appealing and intriguing about owls - perhaps it is the mystery of their nocturnal skills; perhaps it is the way they have forward pointing eyes like us.  Whatever it is, they are always a treat to see and hear.
Wallsend Rising Sun Country Park is our 'go to' place at the moment - right on the doorstep and there is often some interesting stuff to see. We had received reports of successfully breeding Long-eared Owls - with the owlets often being easy to spot.

So, last Saturday, off I went.  The walk, past East Benton Farm, usually has some surprises as well as regular sightings. There is always a goodly number of House Sparrows and Hogweeed makes statuesque flower and seed heads.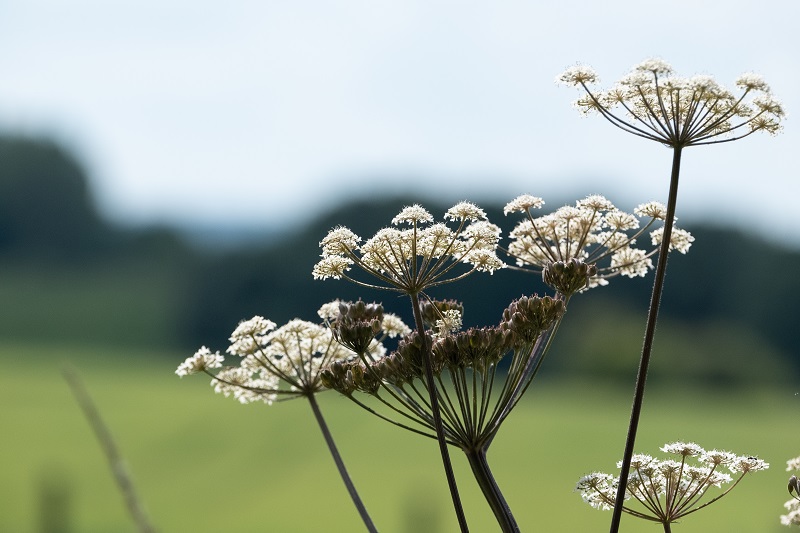 There were Goldfinches feeding...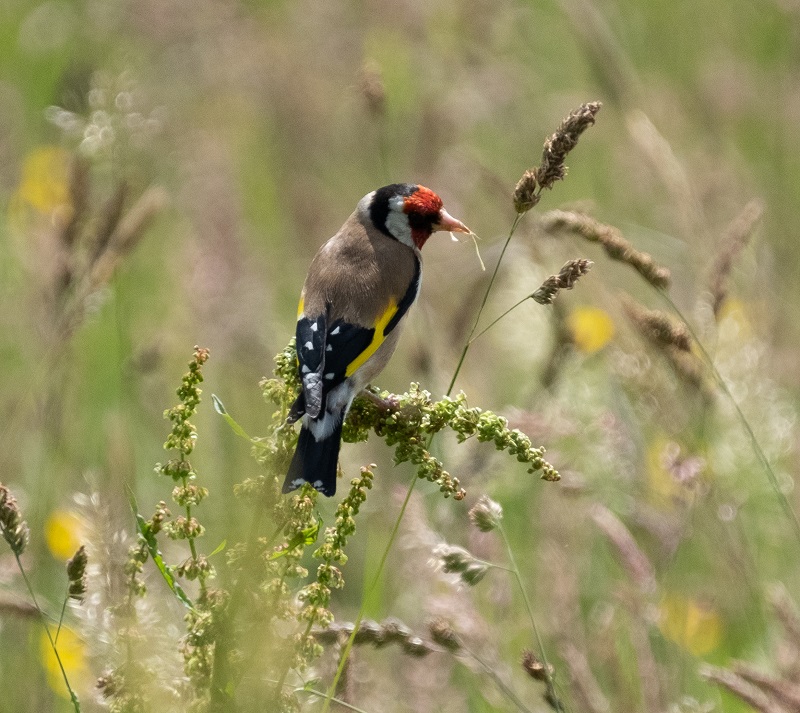 Also feeding was a male Red-tailed Bumblebee (Bombus lapidarius).  Why male? The yellow hairs on his face and the yellow collar distinguish him from the female.  There are no pollen sacs because he does not forage.  He is feeding himself up - ready for the one job he has to perform later in the season (!)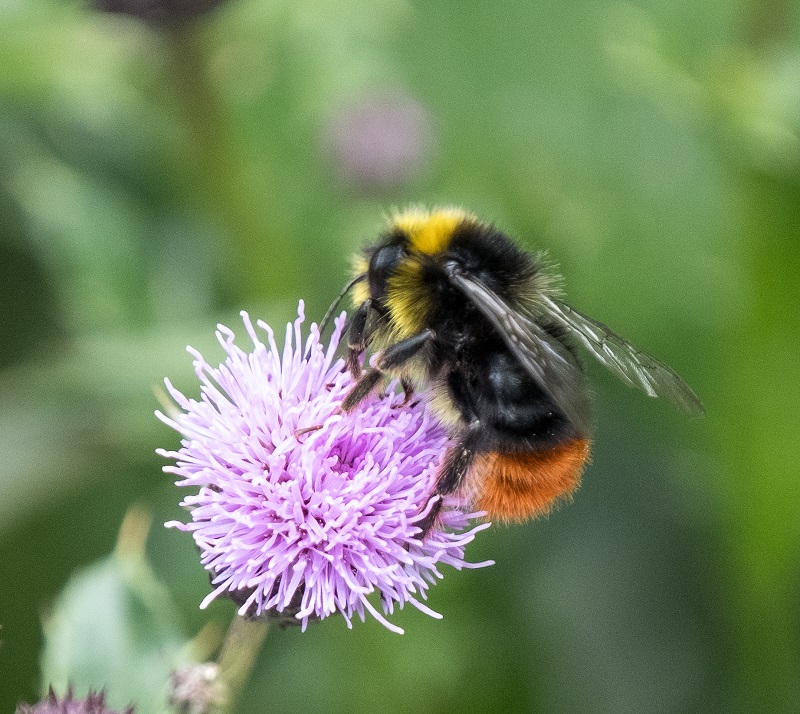 Further on, just before entering the park I came across some really smart new Small Tortoiseshells feeding on thistles...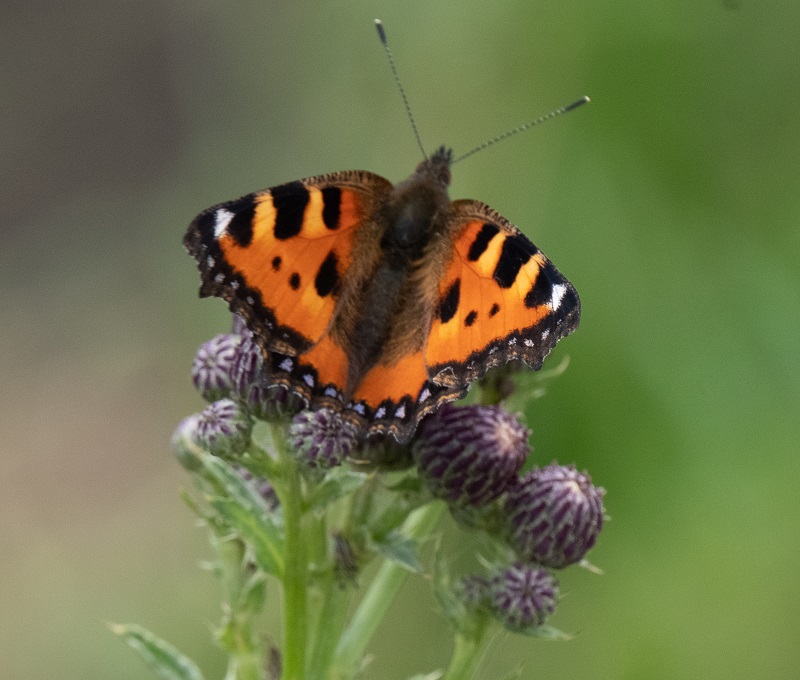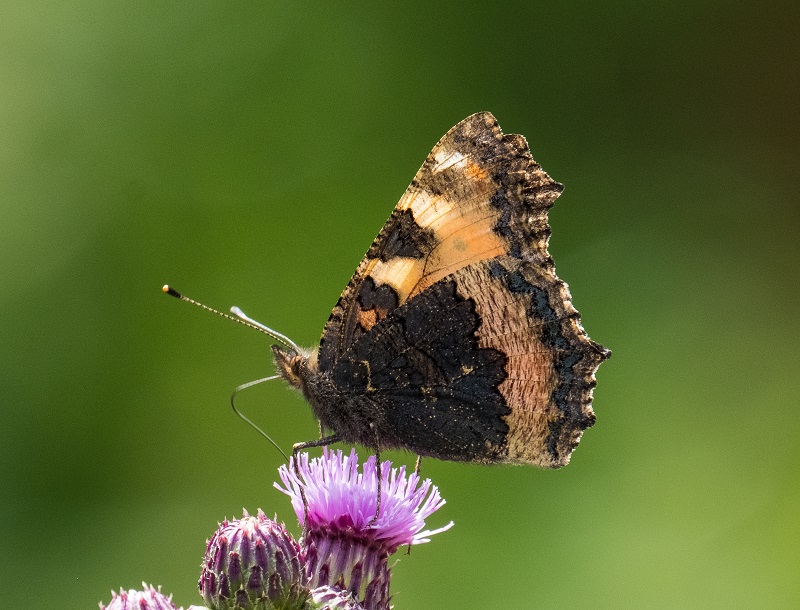 As I entered the park I was lucky to bump into a well-known local birder.  He had been to see the owlets and was able to tell me exactly where they were - which was about 50m away from where they had been the day before.  This certainly saved me a lot of time and frustration. There are 3 young in this brood.  I got good views of two.  The first was playing hard-to-get and was not easy to photograph.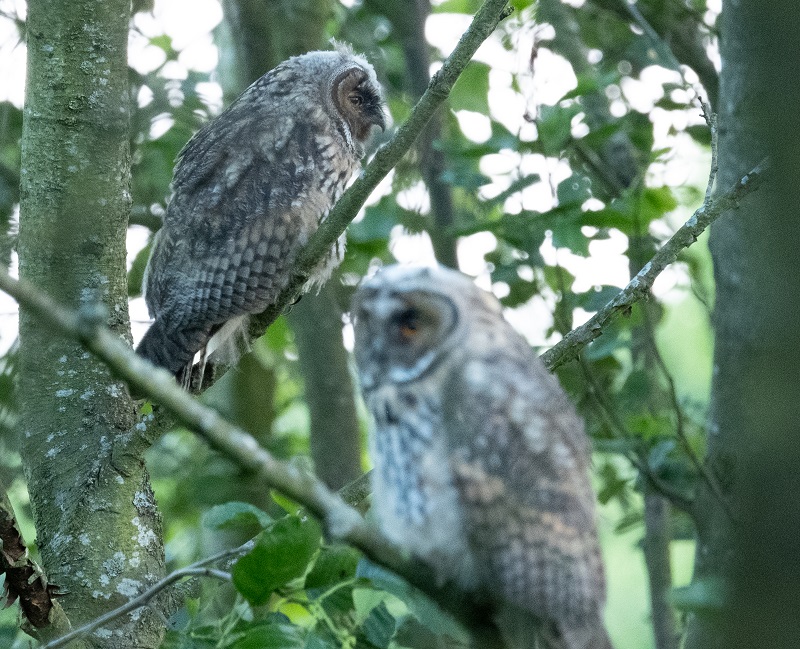 I could see a second bird further back in the tree - which, luckily, was right next to the footpath. I was able to work my way through some longish grass to get behind the tree and get a good look.  At times the bird stared me straight in the eye and did not seem fazed at all.  The gentle click of the camera got his attention...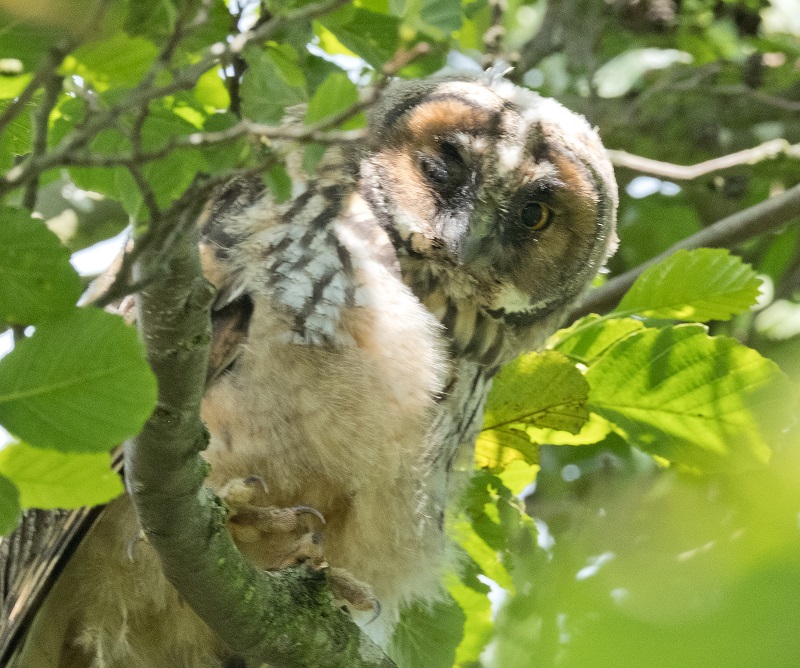 I plan to post more pictures of these birds on Friday - along with owls I have seen in the past.  So tune in on Friday, O loyal reader, for more strigine surprises.
So - we ventured out on our second trip yesterday.  Realising that coastal spots would probably be very popular - not necessarily with 'birders' but certainly with dog walkers and kite fliers - we headed for a little known reserve at Linton Lane. We've been quite fortunate with warblers there before - and other passerines too.
On the way we called in at QE II Park at Woodhorn.  We stayed in the car as it was pretty busy - Mute Swans, Coots, Herring Gulls and Black-headed Gulls on view.  We didn't stay long.

At Linton Lane we did get out of the car. We crossed the disused railway line and turn right towards the broken down hide which overlooks a large pond. We didn't get many good views of birds - but certainly heard our first Willow Warbler - and Chiffchaffs too. They are easier to tell apart by their calls rather than looking at them!  Here are pictures from a couple of years ago - taken at Big Waters NR and at Shibdon Pond.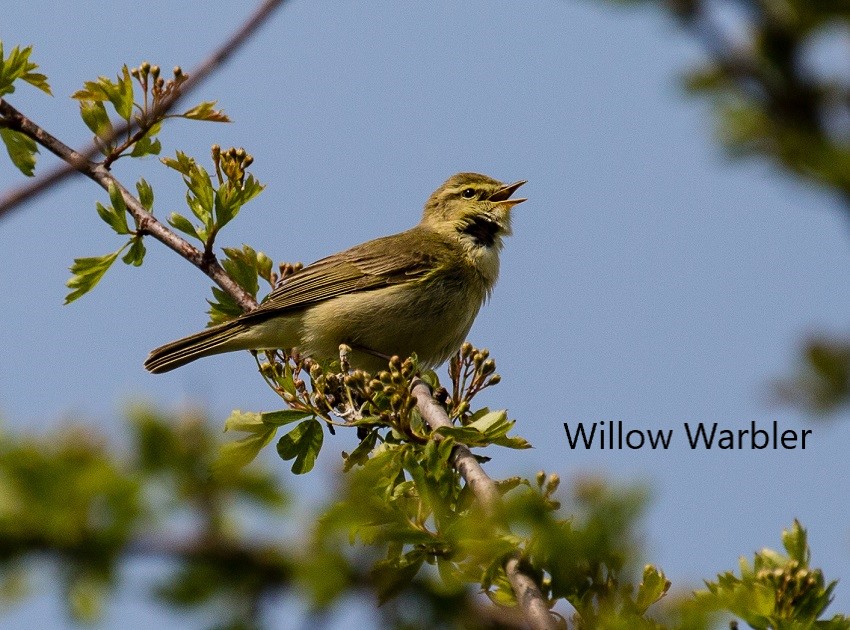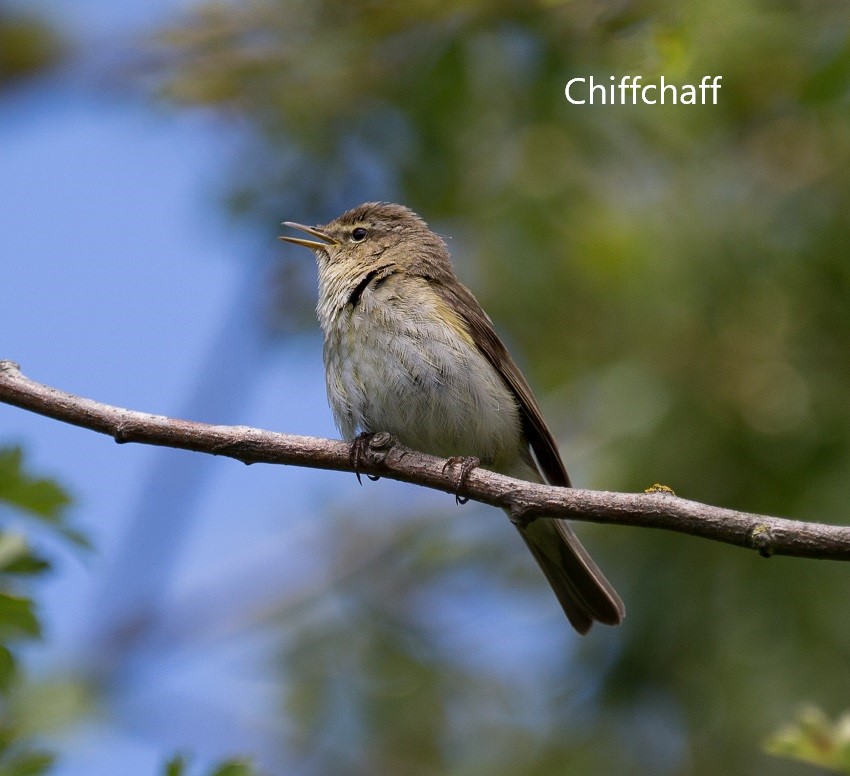 As we drove away from Linton Lane we saw a Linnet and a Yellowhammer in an almost leafless ash tree - a great help when trying to take photographs.  The Yellowhammer co-operated - the Linnet didn't...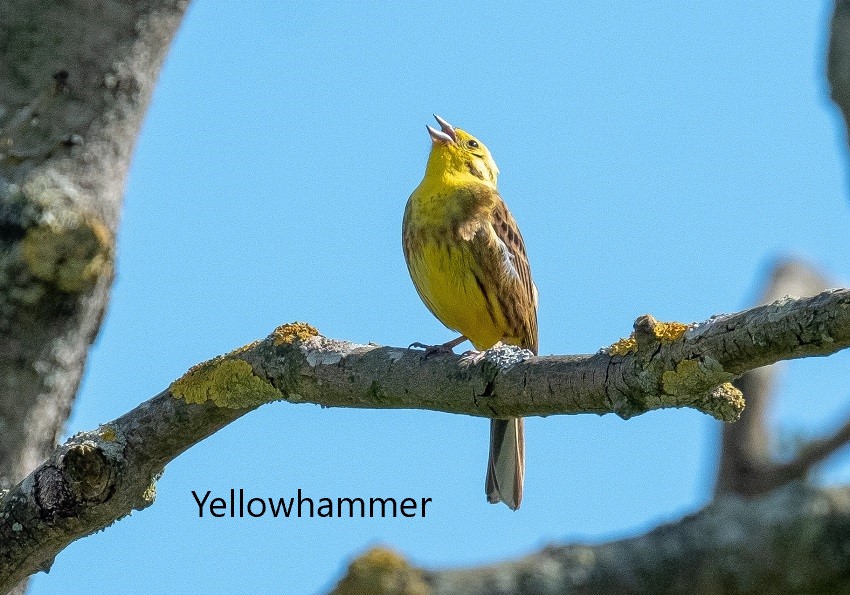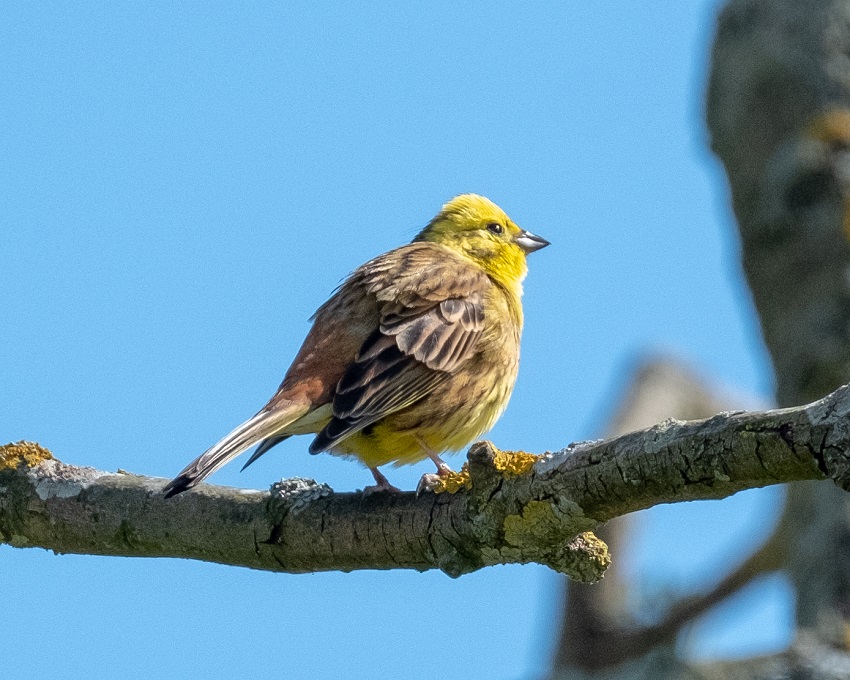 We meandered home via Linton Village, Widdrington, Druridge Pools and Cresswell.  We pulled in at Cresswell to take a quick look at the small pond and then stopped on the farmer's rutted track to get close up views of a Meadow Pipit.  Like the Yellowhammer, singing lustily.  On this occasion the car acted as a good 'hide'.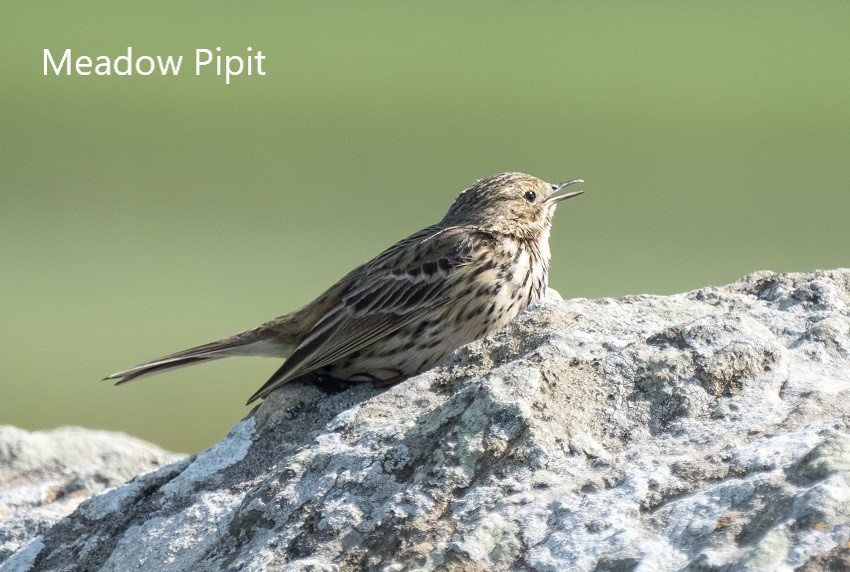 So, another enjoyable jaunt even though it was a bit limited in scope. 25 species seen or heard - and some new ones, different from our previous trip.
I had planned to post various bugs and beastie pictures today - but, once again, have changed my mind.  Confinement to the garden has made me look more closley at the bees and there has been a steep curve of learning.  I am definitely being schooled at home.  So today I am starting to share some of that learning, using my own photographs as visual aids.

The bee of choice is the Common Carder, which loves to visit our flowering Rosemary.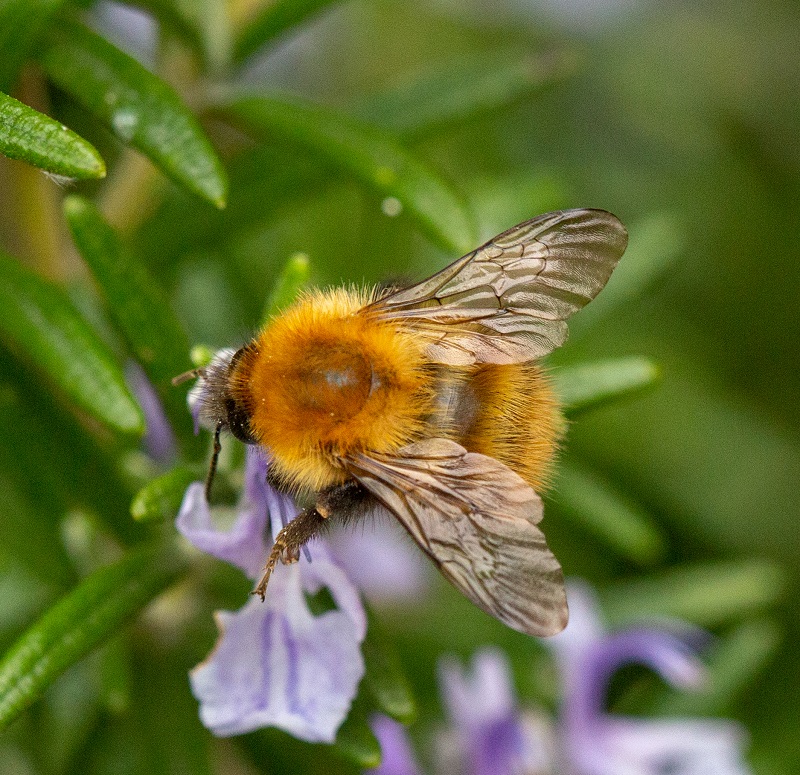 One of our commonest bees, she is quite distinctive with a bright gingery coloured thorax and stripey abdomen.  Which brings me to the 'naming of parts'...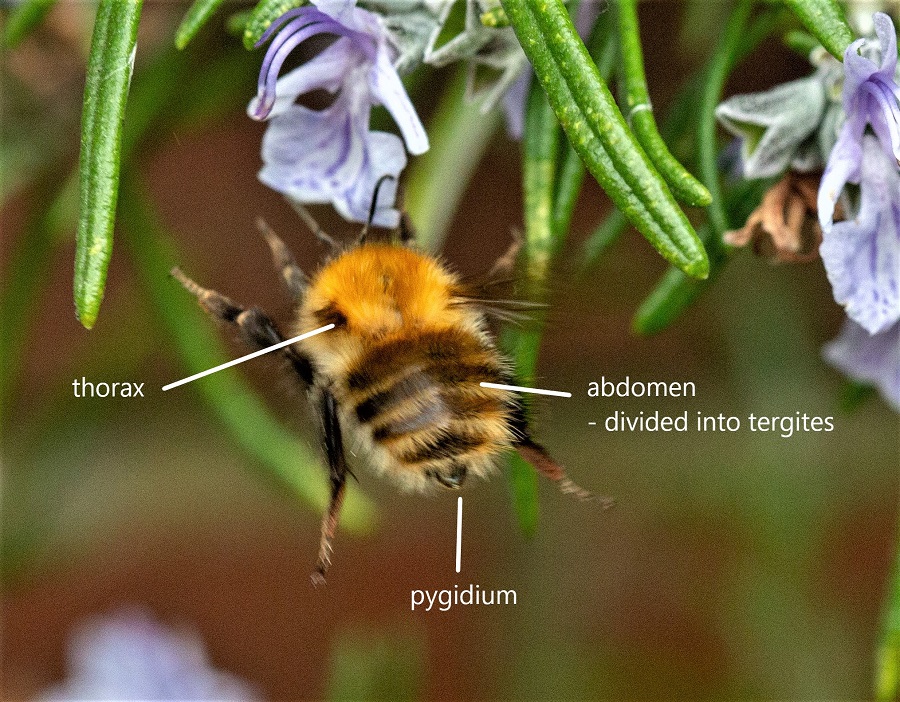 The three main part of the bee are (1) the head (2) the thorax (3) the abdomen.  The abdomen is divided into 5 tergites (not all visible here).  The bumblebee wears its skeleton on the outside - hard plates of chitin joined together by flexible sections.  It is black but covered in coloured hairs.
The pygidium, at the base of the abdomen, is used to make a waxy secretion for lining the nest.
Hopefully I may be able to get a close up of the head and eyes at some time.

Here you can see the tongue (or proboscis) in action.  The bee dips its tongue in nectar, usually deep inside the flower, and the fluid soaks its way up the tongue and into the bee's mouth - they don't suck it up!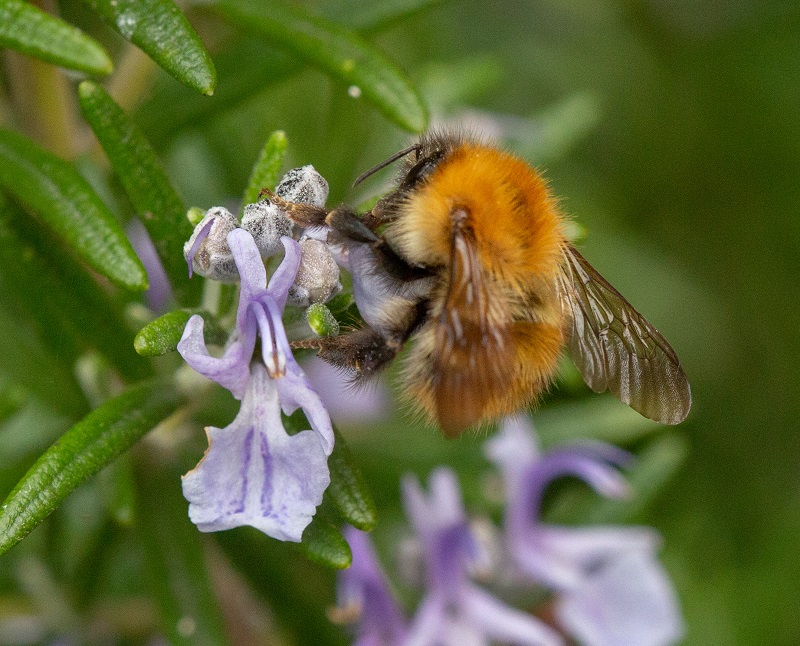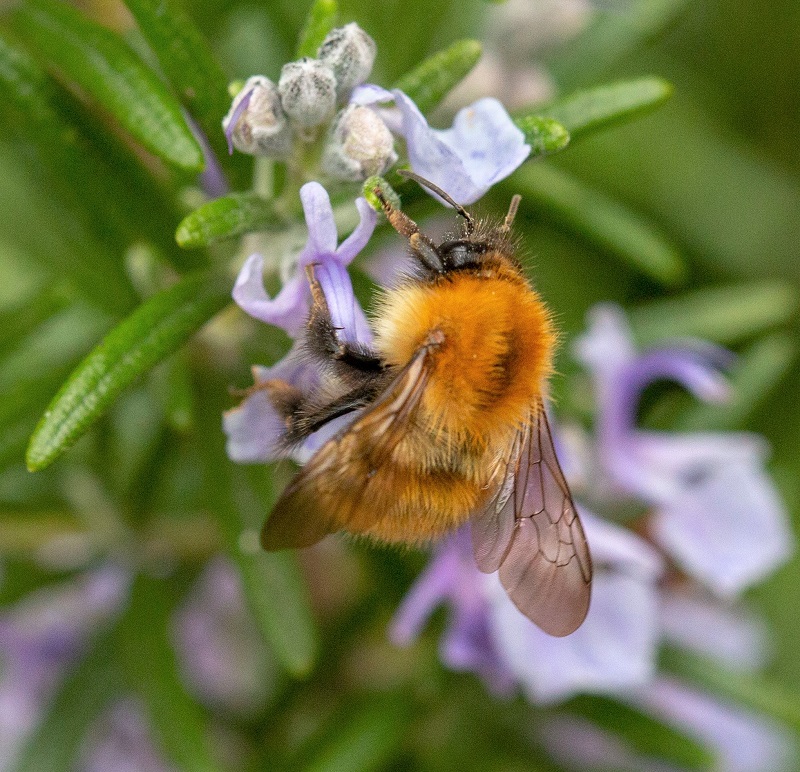 Bumblebees are covered in branched hairs. As they fly this creates a static charge attracting pollen grains as the bee lands on a flower and encourages them to stick to the hairs. The bee grooms itself using the spurs and stiff bristles on their legs to comb the pollen out of their fur.  This action pushes the pollen into the pollen baskets on the tibia of female bumblebees' hind legs.  Pollen, wetted by a little saliva, builds up into a lump with the consistency of plasticine.  A full pollen basket may contain up to a million grains of pollen.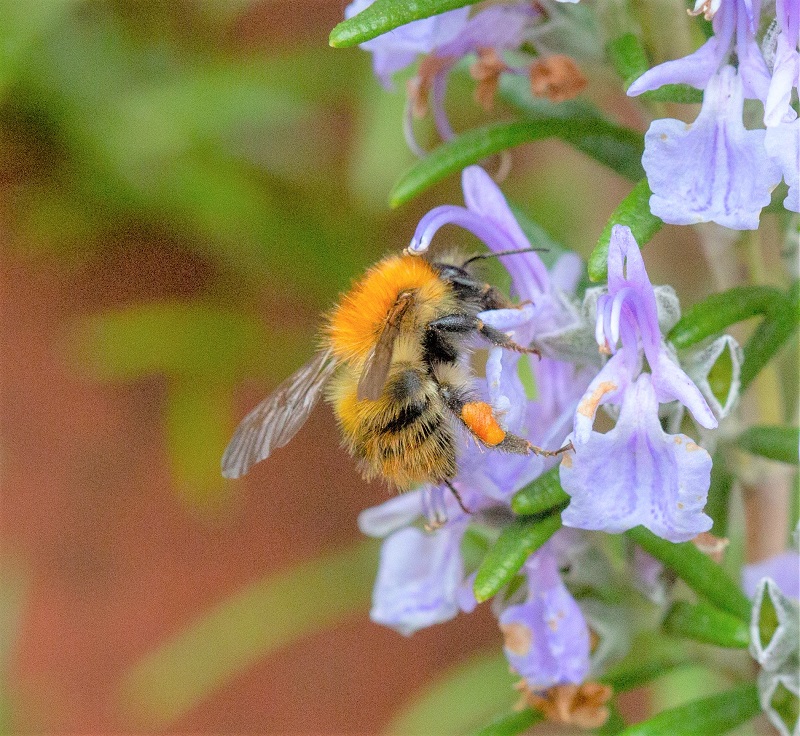 And another good view of the Common Carder - the view you may well get when spotting Bumblebees in your garden (or out on your walk - lucky things...)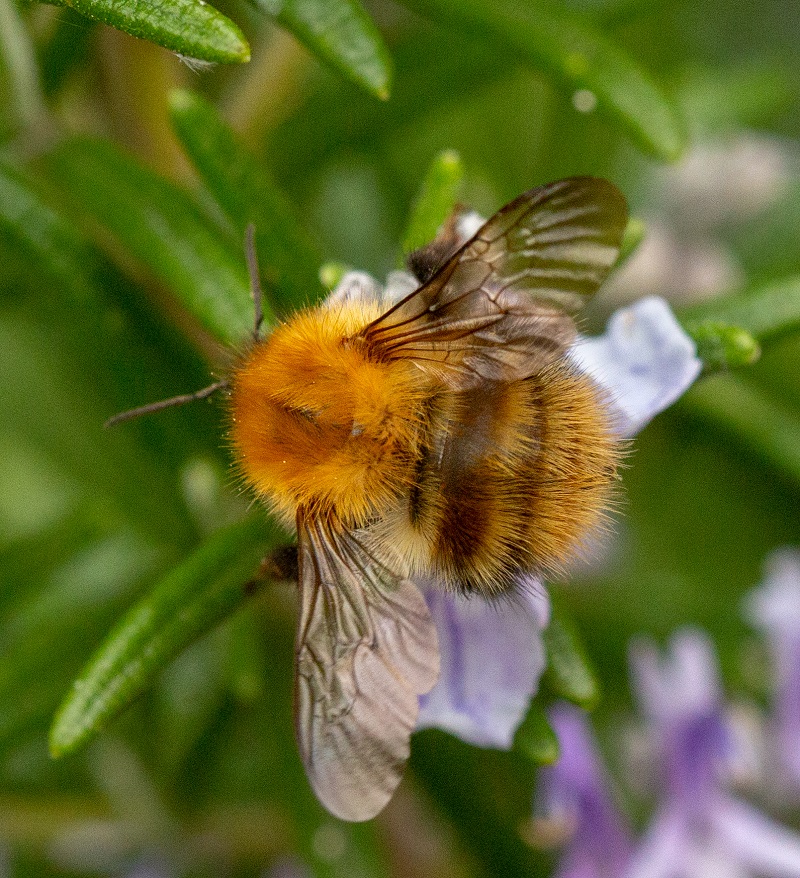 The text books for my home learning are: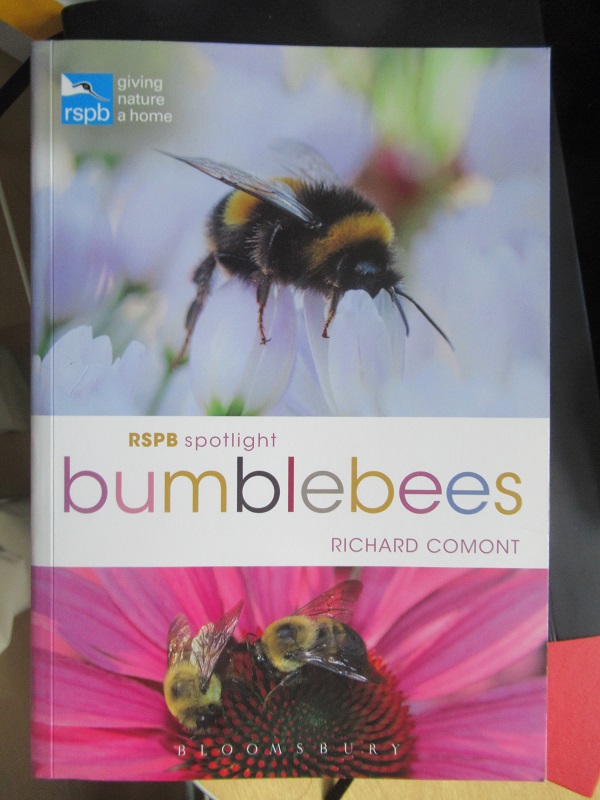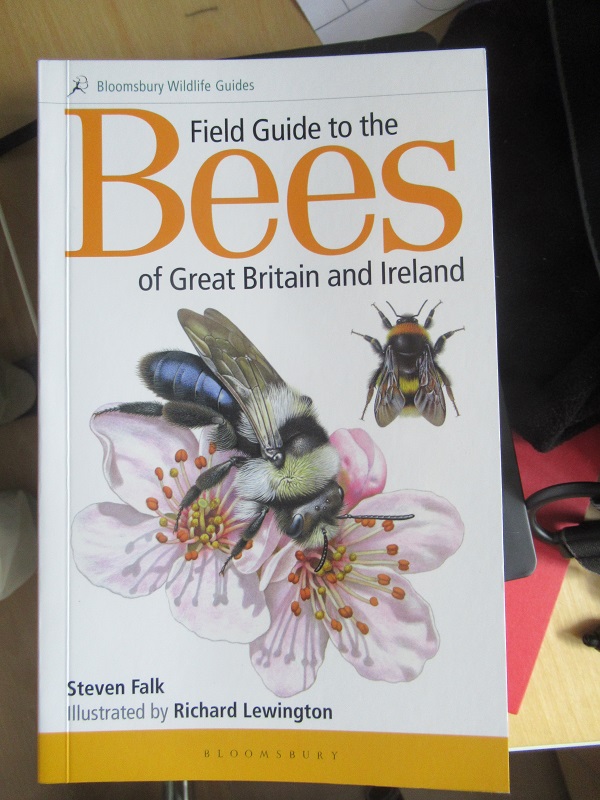 Tune in for more lessons on Friday!





I have to say that my favourite bird song is the Blackbird's mellifulous tone.  I suppose there are are two main reasons.  Firstly - I can hear it! Secondly, despite it being so recognisable, there is huge variety - and it is everywhere.  People go on about the nightingale - but what's the point 'oop North' - we never hear it.  And, actually not many people anywhere in the UK hear it either...

Here in locked own Forest Hall I see 3 Blackbirds every day.  And here they are...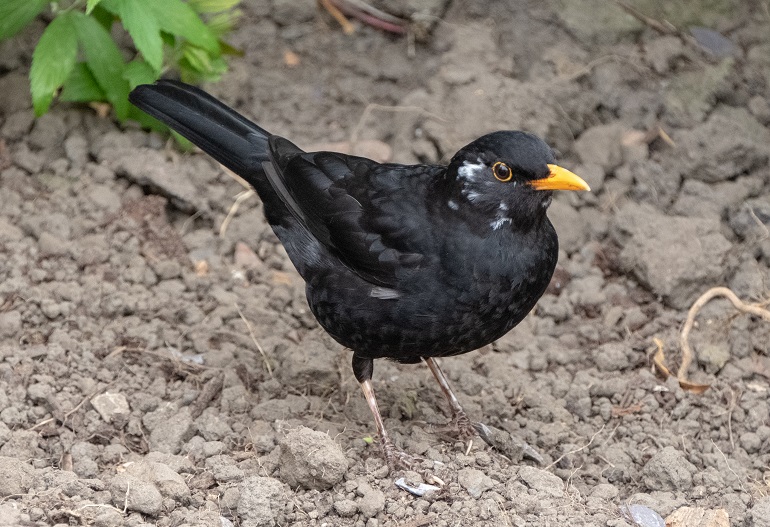 This male is instantly recognisable because of his white feathers - more of that in a minute.

This is his rival...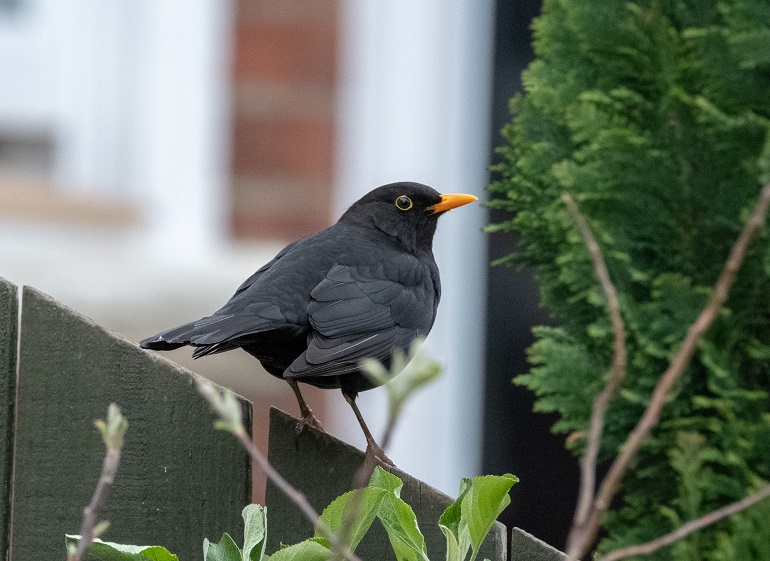 And this is the lady of their dreams..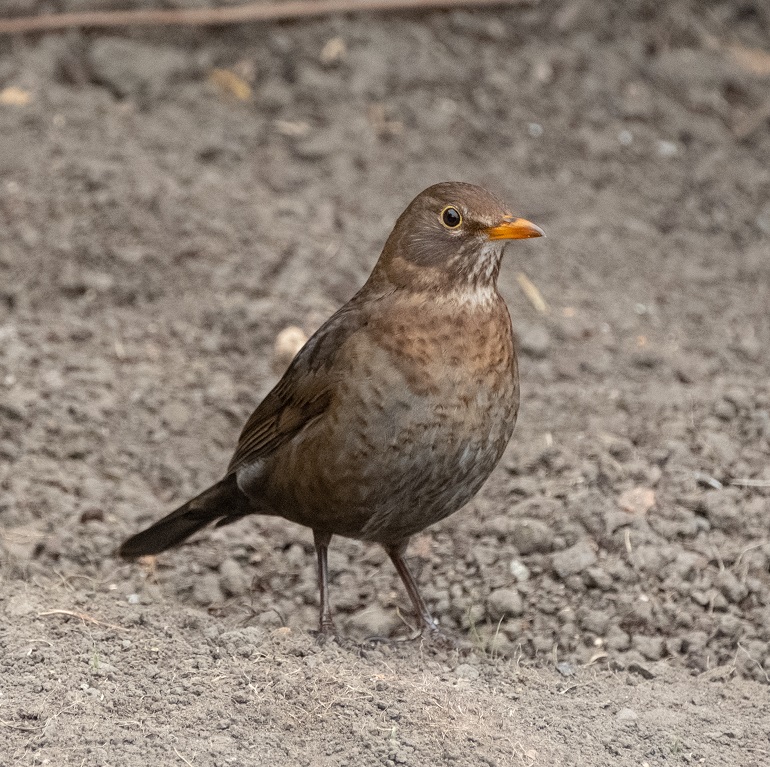 At the moment I'm not sure which male is holding territory in our garden or if two of them are paired up.  There is a lot of chasing about but no real victor.

The busines with the white feathers is quite common. These birds are known as 'leucistic'.  We had one in our garden in Jesmond too...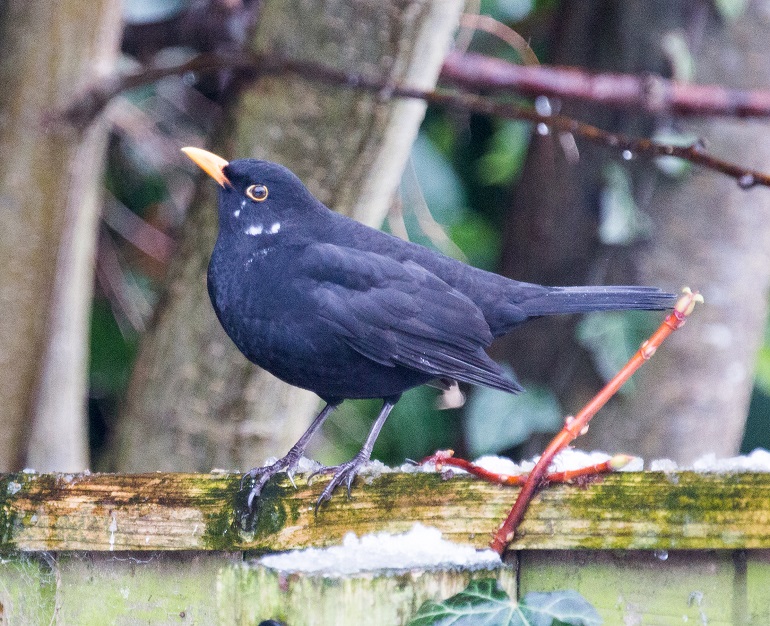 Reading articles on the British Birds, BTO and RSPB websites it seems it is not to be totally clear why this happens.  Something is happening that stops pigment (usually melanin) being deposited in the feathers.  It seems to be a genetic affect and is different from albinism where the whole bird is affected (and the bird will have pink eyes).  It is most often noted in Blackbirds - perhaps because it shows up easily, being white feathers on a black background.

Studies have shown that leucistic Blackbirds are more likely to be found in cities - and, accordingly, there has been supposition that it may be linked to a poorer diet (too much bread!). Whatever the reason, it does help me distinguish between my two birds in the garden.

The Blackbirds we see in winter may not be 'our' Blackbirds.

The arrival of many thousands of Blackbirds during the autumn months goes largely unnoticed, primarily because they look the same as those birds that are here all year round. However, an early morning visit to some berry-laden coastal scrub and hedgerows will reveal these immigrants, feeding alongside newly arrived Redwing and Fieldfare. The efforts of BTO bird ringers have revealed that our winter immigrants originate in Finland, Sweden and Denmark, with others arriving from the Netherlands and Germany. Some of these birds are only passing through, and will continue south to winter in Spain, France and Portugal.

But - we started with song....

The Blackbird is one of a small number of species that sometimes sing during the night, a behaviour that occurs more often in the presence of street-lighting. Blackbirds have large eyes, relative to their body size, and BTO research has revealed them to be the first species to arrive at garden feeding stations on dark winter mornings. Visual capability at low light levels influences when a species is first able to move around and find food.

As I get older I cannot hear high-pitched sounds which makes idenitification of birds by their song even more dificult for me.  It helps having Julia's ears alongside me! But I can manage a few of the more common ones - and at the moment we have a really vocal Dunnock in the garden, so I am getting better at that one.

Here is a link to a nice You Tube video that is quite short but very good for listening to our more common birds (although it does include the pesky Nightingale)>

Listen here: https://www.youtube.com/watch?v=RHnzqKfxSQw

Happy listening - wherever you can get to...

/